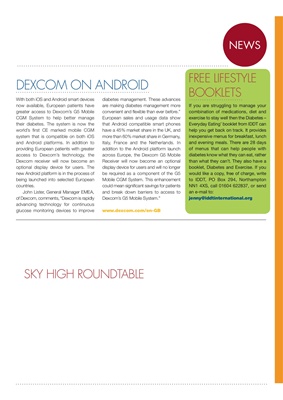 NEWS
DEXCOM ON ANDROID
With both iOS and Android smart devices
now available, European patients have
greater access to Dexcom's G5 Mobile
CGM System to help better manage their
diabetes. The system is now the world's
first CE marked mobile CGM system that
is compatible on both iOS and Android
platforms. In addition to providing
European patients with greater access
to Dexcom's technology, the Dexcom
receiver will now become an optional
display device for users. The new Android
platform is in the process of being launch
into select European countries.
John Lister, General Manager EMEA,
of Dexcom comments, "Dexcom is rapidly
advancing technology for continuous
glucose monitoring devices to improve
diabetes management. These advances
are making diabetes management more
convenient and flexible than ever before."
European sales and usage data show
that Android compatible smart phones
have a 45% market share in the UK, and
more than 60% market share in Germany,
Italy, France and the Netherlands. In
addition to the Android platform launch
across Europe, the Dexcom G5 Mobile
Receiver will now become an optional
display device for users and will no longer
be required as a component of the G5
Mobile CGM System. This enhancement
could mean significant savings for patients
and further breaks down barriers, giving
access to Dexcom's G5 Mobile System.
SKY HIGH ROUNDTABLE
If you are struggle to manage your
combination of medications, diet and
exercise to stay well then the Diabetes -
Everyday Eating' booklet from IDDT can
help you get back on track. It provides
inexpensive menus for breakfast, lunch
and evening meals. There are 28 days
of menus that can help people with
diabetes know what they can eat, rather
than what they can't. They also have a
booklet, Diabetes and Exercise. If you
would like a copy, free of charge, write
<
jenny@iddtinternational.org
hampton
NN1 4XS, call 01604 622837, or e-mail
jenny@iddtinternational.org
FREE LIFESTYLE
BOOKLETS