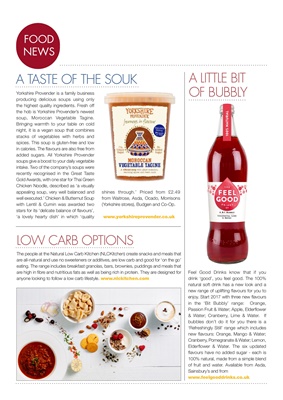 LIVINGLIVING
FOOD
NEWS
A TASTE OF THE SOUK
LOW CARB OPTIONS
A LITTLE BIT
OF BUBBLY
Feel Good Drinks know that if you
drink 'good', you feel good. The 100%
natural soft drink has a new look and
a new range of uplifting flavours for
you to enjoy. Start 2017 with three
new flavours in the 'Bit Bubbly' range:
Orange, Passion Fruit & Water; Apple,
Elderflower & Water; Cranberry, Lime
& Water. If bubbles don't do it for you
there is a 'Refreshingly Still' range which
includes new flavours: Orange, Mango &
Water; Cranberry, Pomegranate & Water;
Lemon, Elderflower & Water. The six
updated flavours have no added sugar
- each is 100% natural, made from a
simple blend of fruit and water. Available
from Asda, Sainsbury's and www.
feelgooddrinks.co.uk
The people at the Natural Low Carb Kitchen (NLCKitchen) create snacks and meals that
are all-natural and use no sweeteners or additives, are low carb and good for 'on the go'
eating. The range includes breakfast granolas, bars, brownies, puddings and meals that
are high in fibre and nutritious fats as well as being rich in protein. They are designed for
anyone looking to follow a low carb lifestyle. www.nlckitchen.com
Yorkshire Provender is a family business
producing delicious soups using only
the highest quality ingredients. Fresh off
the hob is Yorkshire Provender's newest
soup, Moroccan Vegetable Tagine.
Bringing warmth to your table on cold
night, it is a vegan soup that combines
stacks of vegetables with herbs and
spices. This soup is gluten-free and low
in calories. The flavours are also free from
added sugars. All Yorkshire Provender
soups give a boost to your daily vegetable
intake. Two of the company's soups were
recently recognised in the Great Taste
Gold Awards, with one star for Thai Green
Chicken Noodle, described as 'a visually
appealing soup, very well balanced and
well executed.' Chicken & Butternut Soup
with Lentil & Cumin was awarded two
stars for its 'delicate balance of flavours',
'a lovely hearty dish' in which 'quality
shines through.' Priced from £2.49
from Waitrose, Asda, Ocado, Morrisons
(Yorkshire stores), Budgen and Co-Op.