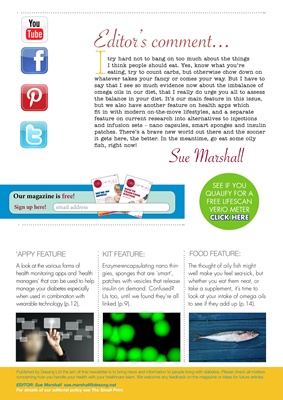 Published by Desang Ltd the aim of this newsletter is to bring news and information to people living with diabetes. Please check all matters
concerning how you handle your health with your healthcare team. We welcome any feedback on the magazine or ideas for future articles.
EDITOR: Sue Marshall sue.marshall@desang.netshall" target="_blank" title="Visit sue.marshall">sue.marshall@desang.net
For details of our editorial policy see The Small Print.
Enzyme-encapsulating nano thingies, sponges that are 'smart',
patches with vesicles that release
insulin on demand. Confused?
Us too, until we found they're all
linked (p.9).
Sue Marshall
'APPY FEATURE
A look at the various forms of
health monitoring apps and 'health
managers' that can be used to help
manage your diabetes especially
when used in combination with
wearable technology (p.12), Itry hard not to bang on too much about the things
I think people should eat. Yes, know what you're
eating, try to count carbs, but otherwise chow down on
whatever takes your fancy or comes your way. But I have to
say that I see so much evidence now about the imbalance of
omega oils in our diet, that I really do urge you all to assess
the balance in your diet. It's our main feature in this issue,
but we also have another feature on health apps which
fit in with modern on-the-move lifestyles, and a separate
feature on current research into alternatives to injections
and infusion sets - nano capsules, smart sponges and insulin
patches. There's a brave new world out there and the sooner
it gets here, the better. In the meantime, go eat some oily
fish, right now!
Editor's comment...
ISSUE 30
MAGAZINE
DESANG
PLUS • New Products • Groovy giveaways • News (for T1 and T2)
WE'RE NO
ANGELS
But business as usual is best for
diabetics at Christmas
MAKING
CARBS COUNT:
CHESTNUTS ROASTING
ON OPEN FIRES
Our magazine is free!
Sign up here! email address
KIT FEATURE:
The thought of oily fish might
well make you feel sea-sick, but
whether you eat them neat, or
take a supplement, it's time to
look at your intake of omega oils
to see if they add up (p.14).
FOOD FEATURE:
SEE IF YOU
QUALIFY FOR A
FREE LIFESCAN
VERIO METER
CLICK HERE