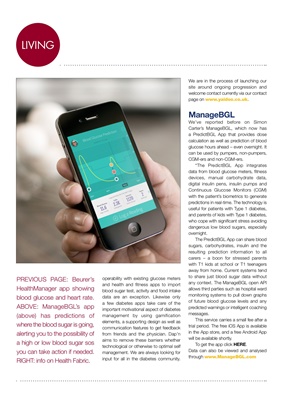 LIVINGLIVING
operability with existing glucose meters
and health and fitness apps to import
blood sugar test, activity and food intake
data are an exception. Likewise only
a few diabetes apps take care of the
important motivational aspect of diabetes
management by using gamification
elements, a supporting design as well as
communication features to get feedback
from friends and the physician. Dap'n
aims to remove these barriers whether
technological or otherwise to optimal self
management. We are always looking for
input for all in the diabetes community.
We are in the process of launching our
site around ongoing progression and
welcome contact currently via our contact
page on www.yaidoo.co.uk.
ManageBGL
We've reported before on Simon
Carter's ManageBGL, which now has
a PredictBGL App that provides dose
calculation as well as prediction of blood
glucose hours ahead - even overnight. It
can be used by pumpers, non-pumpers,
CGM-ers and non-CGM-ers.
"The PredictBGL App integrates
data from blood glucose meters, fitness
devices, manual carbohydrate data,
digital insulin pens, insulin pumps and
Continuous Glucose Monitors (CGM)
with the patient's biometrics to generate
predictions in real-time. The technology is
useful for patients with Type 1 diabetes,
and parents of kids with Type 1 diabetes,
who cope with significant stress avoiding
dangerous low blood sugars, especially
overnight.
The PredictBGL App can share blood
sugars, carbohydrates, insulin and the
resulting prediction information to all
carers - a boon for stressed parents
with T1 kids at school or T1 teenagers
away from home. Current systems tend
to share just blood sugar data without
any context. The ManageBGL open API
allows third parties such as hospital ward
monitoring systems to pull down graphs
of future blood glucose levels and any
predicted warnings or intelligent coaching
messages.
This service carries a small fee after a
trial period. The free iOS App is available
in the App store, and a free Android App
will be available shortly.
To get the app click HERE.
Data can also be viewed and analysed
through www.managebgl.com
PREVIOUS PAGE: Beurer's
HealthManager app showing
blood glucose and heart rate.
ABOVE: ManageBGL's app
(above) has predictions of
where the blood sugar is going,
alerting you to the possibility of
a high or low blood sugar sos
you can take action if needed.
RIGHT: info on Health Fabric.