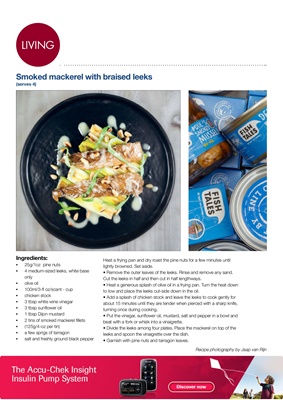 LIVINGLIVING
Smoked mackerel with braised leeks
(serves 4)
Ingredients:
• 25g/1oz pine nuts
• 4 medium-sized leeks, white base
only
• olive oil
• 100ml/3-fl oz/scant - cup
• chicken stock
• 3 tbsp white wine vinegar
• 3 tbsp sunflower oil
• 1 tbsp Dijon mustard
• 2 tins of smoked mackerel fillets
• (125g/4-oz per tin)
• a few sprigs of tarragon
• salt and freshly ground black pepper
Heat a frying pan and dry roast the pine nuts for a few minutes until
lightly browned. Set aside.
• Remove the outer leaves of the leeks. Rinse and remove any sand.
Cut the leeks in half and then cut in half lengthways.
• Heat a generous splash of olive oil in a frying pan. Turn the heat down
to low and place the leeks cut-side down in the oil.
• Add a splash of chicken stock and leave the leeks to cook gently for
about 15 minutes until they are tender when pierced with a sharp knife,
turning once during cooking.
• Put the vinegar, sunflower oil, mustard, salt and pepper in a bowl and
beat with a fork or whisk into a vinaigrette.
• Divide the leeks among four plates. Place the mackerel on top of the
leeks and spoon the vinaigrette over the dish.
• Garnish with pine nuts and tarragon leaves.