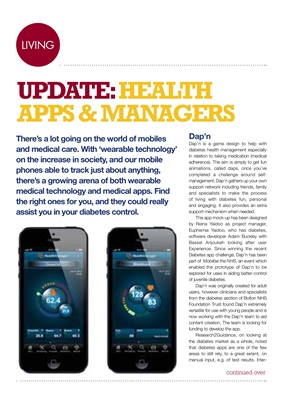 LIVINGLIVING
There's a lot going on the world of mobiles
and medical care. With 'wearable technology'
on the increase in society, and our mobile
phones able to track just about anything,
there's a growing arena of both wearable
medical technology and medical apps. Find
the right ones for you, and they could really
assist you in your diabetes control.
UPDATE: HEALTH
APPS & MANAGERS
Dap'n
Dap'n is a game design to help with
diabetes health management especially
in relation to taking medication (medical
adherence). The aim is simply to get fun
animations, called daps, once you've
completed a challenge around selfmanagement. Dap'n gathers up your own
support network including friends, family
and specialists to make the process
of living with diabetes fun, personal
and engaging. It also provides an extra
support mechanism when needed.
This app mock-up has been designed
by Reina Yaidoo as project manager,
Euphemia Yaidoo, who has diabetes,
software developer Adam Buckley with
Bassel Anjoukeh looking after user
Experience. Since winning the recent
Diabetes app challenge, Dap'n has been
part of Mobilise the NHS, an event which
enabled the prototype of Dap'n to be
explored for uses in aiding better control
of juvenile diabetes.
Dap'n was originally created for adult
users, however clinicians and specialists
from the diabetes section of Bolton NHS
Foundation Trust found Dap'n extremely
versatile for use with young people and is
now working with the Dap'n team to aid
content creation. The team is looking for
funding to develop the app.
Research2Guidance, on looking at
the diabetes market as a whole, noted
that diabetes apps are one of the few
areas to still rely, to a great extent, on
manual input, e.g. of test results. Intercontinued
over