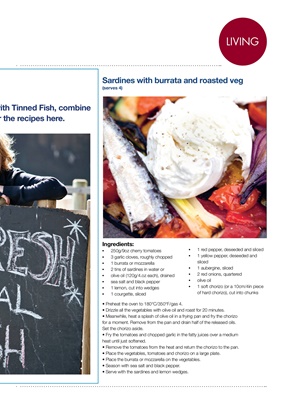 LIVING
ith Tinned Fish, combine
the recipes here.
Sardines with burrata and roasted veg
(serves 4)
Ingredients:
• 250g/9oz cherry tomatoes
• 3 garlic cloves, roughly chopped
• 1 burrata or mozzarella
• 2 tins of sardines in water or
• olive oil (120g/4.oz each), drained
• sea salt and black pepper
• 1 lemon, cut into wedges
• 1 courgette, sliced
• Preheat the oven to 180°C/350°F/gas 4.
• Drizzle all the vegetables with olive oil and roast for 20 minutes.
• Meanwhile, heat a splash of olive oil in a frying pan and fry the chorizo
for a moment. Remove from the pan and drain half of the released oils.
Set the chorizo aside.
• Fry the tomatoes and chopped garlic in the fatty juices over a medium
heat until just softened.
• Remove the tomatoes from the heat and return the chorizo to the pan.
• Place the vegetables, tomatoes and chorizo on a large plate.
• Place the burrata or mozzarella on the vegetables.
• Season with sea salt and black pepper.
• Serve with the sardines and lemon wedges.• 1 red pepper, deseeded and sliced
• 1 yellow pepper, deseeded and
sliced
• 1 aubergine, sliced
• 2 red onions, quartered
• olive oil
• 1 soft chorizo (or a 10cm/4in piece
of hard chorizo), cut into chunks