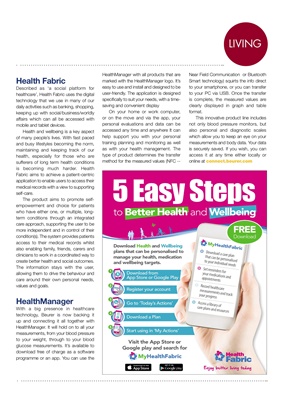 LIVING
Health Fabric
Described as 'a social platform for
healthcare', Health Fabric uses the digital
technology that we use in many of our
daily activities such as banking, shopping,
keeping up with social/business/worldly
affairs which can all be accessed with
mobile and tablet devices.
Health and wellbeing is a key aspect
of many people's lives. With fast paced
and busy lifestyles becoming the norm,
maintaining and keeping track of our
health, especially for those who are
sufferers of long term health conditions
is becoming much harder. Health
Fabric aims to achieve a patient-centric
application to enable users to access their
medical records with a view to supporting
self-care.
The product aims to promote selfempowerment and choice for patients
who have either one, or multiple, longterm conditions through
an integrated
care approach, supporting the user to be
more independent and in control of their
condition(s). The system provides patients
access to their medical records whilst
also enabling family, friends, carers and
clinicians to work in a coordinated way to
create better health and social outcomes.
The information stays with the user,
allowing them to drive the behaviour and
care around their own personal needs,
values and goals.
HealthManager
With a big presence in healthcare
technology, Beurer is now backing it
up and connecting it all together with
HealthManager. It will hold on to all your
measurements, from your blood pressure
to your weight, through to your blood
glucose measurements. It's available to
download free of charge as a software
programme or an app. You can use the
HealthManager with all products that are
marked with the HealthManager logo. It's
easy to use and install and designed to be
user-friendly. The application is designed
specifically to suit your needs, with a timesaving and convenient display
On your home or work computer,
or on the move and via the app, your
personal evaluations and data can be
accessed any time and anywhere It can
help support you with your personal
training planning and monitoring as well
as with your health management. The
type of product determines the transfer
method for the measured values (NFC --
Near Field Communication or Bluetooth
Smart technology) squirts the info direct
to your smartphone, or you can transfer
to your PC via USB. Once the transfer
is complete, the measured values are
clearly displayed in graph and table
format.
This innovative product line includes
not only blood pressure monitors, but
also personal and diagnostic scales
which allow you to keep an eye on your
measurements and body data. Your data
is securely saved. If you wish, you can
access it at any time either locally or
online at connect.beurer.com
1
5
3
Register2
4
1
5
3
Register2
4
1
5
3
Register2
4
1
5
3
Register2
4
1
5
3
Register2
4
Visit the App Store or
Google play and search for
Download a care plan
that can be personalised
to your individual needs
Set reminders for
your medications and
appointments
Record healthcare
measurements and track
your progress
Access a library of
care plans and resources
Enjoy better living today
Download Health and Wellbeing
plans that can be personalised to
manage youinfo@healthfabric.co.uk>
and wellbeing targets.
5 Easy Steps
0121 634 3040 info@healthfabric.co.uk www.healthfabric.co.uk @HFabric
FREE
Download
Download from
App Store or Google Play
Register your account
Go to 'Today's Actions'
Download a Plan
Start using in 'My Actions'
to Better Health and Wellbeing