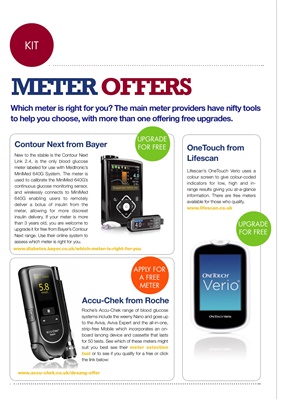 KIT
Which meter is right for you? The main meter providers have nifty tools
to help you choose, with more than one offering free upgrades.
METER OFFERS
Contour Next from Bayer OneTouch from
Lifescan
Lifescan's OneTouch Verio uses a
colour screen to give colour-coded
indicators for low, high and inrange results
giving you at-a-glance
information. There are free meters
available for those who qualify.
www.lifescan.co.uk UPGRADE
FOR FREE
UPGRADE
FOR FREE
New to the stable is the Contour Next
Link 2.4, is the only blood glucose
meter labeled for use with Medtronic's
MiniMed 640G System. The meter is
used to calibrate the MiniMed 640G's
continuous glucose monitoring sensor,
and wirelessly connects to MiniMed
640G enabling users to remotely
deliver a bolus of insulin from the
meter, allowing for more discreet
insulin delivery. If your meter is more
than 3 years old, you are welcome to
upgrade it for free from Bayer's Contour
Next range. Use their online system to
assess which meter is right for you.
www.diabetes.bayer.co.uk/which-meter-is-right-for-you
Accu-Chek from Roche
Roche's Accu-Chek range of blood glucose
systems include the weeny Nano and goes up
to the Aviva, Aviva Expert and the all-in-one,
strip-free Mobile which incorporates an onboard
lancing device and cassette that lasts
for 50 tests. See which of these meters might
suit you best see their meter selection
tool or to see if you qualify for a free or click
the link below:
www.accu-chek.co.uk/desang-offer
APPLY FOR
A FREE
METER