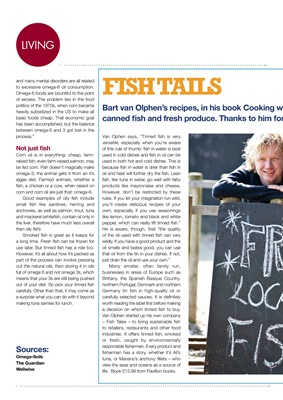 LIVINGLIVING
and many mental disorders are all related
to excessive omega-6 oil consumption.
Omega-6 foods are bountiful to the point
of excess. The problem lies in the food
politics of the 1970s, when corn became
heavily subsidized in the US to make all
basic foods cheap. That economic goal
has been accomplished, but the balance
between omega-6 and 3 got lost in the
process."
Not just fish
Corn oil is in everything: cheap, farmraised fish,
even farm-raised salmon, may
be fed corn. Fish doesn't magically make
omega-3; the animal gets it from an it's
algae diet. Farmed animals, whether a
fish, a chicken or a cow, when raised on
corn and corn oil are just that: omega-6.
Good examples of oily fish include
small fish like sardines, herring and
anchovies, as well as salmon, trout, tuna
and mackerel (whitefish, contain oil only in
the liver, therefore have much less overall
than oily fish).
Smoked fish is great as it keeps for
a long time. Fresh fish can be frozen for
use later. But tinned fish has a role too.
However, it's all about how it's packed as
part of the process can involve pressing
out the natural oils, then storing it in oils
full of omega 6 and not omega 3s, which
means that your 3s are still being pushed
out of your diet. So pick your tinned fish
carefully. Other than that, it may come as
a surprise what you can do with it beyond
making tuna sarnies for lunch.
Sources:
Omega-9oils
The Guardian
Wellwise
Bart van Olphen's recipes, in his book Cooking w
canned fish and fresh produce. Thanks to him for
FISH TAILS
Van Ophen says, "Tinned fish is very
versatile, especially when you're aware
of this rule of thumb: fish in water is best
used in cold dishes and fish in oil can be
used in both hot and cold dishes. This is
because fish in water is drier than fish in
oil and heat will further dry the fish. Lean
fish, like tuna in water, go well with fatty
products like mayonnaise and cheese.
However, don't be restricted by these
rules. If you let your imagination run wild,
you'll create delicious recipes of your
own, especially if you use seasonings
like lemon, tomato and black and white
pepper, which can really lift tinned fish."
He is aware, though, that "the quality
of the oil used with tinned fish can vary
wildly. If you have a good product and the
oil smells and tastes good, you can use
that oil from the tin in your dishes. If not,
just drain the oil and use your own."
Many smaller, often family run,
businesses in areas of Europe such as
Brittany, the Spanish Basque Country,
northern Portugal, Denmark and northern
Germany tin fish in high-quality oil or
carefully selected sauces. It is definitely
worth reading the label first before making
a decision on which tinned fish to buy.
Van Olphen started up his own company
- Fish Tales - to bring sustainable fish
to retailers, restaurants and other food
industries. It offers tinned fish, smoked
or fresh, caught by environmentally
responsible fishermen. Every product and
fisherman has a story, whether it's Ali's
tuna, or Mariano's anchovy fillets - who
view the seas and oceans as a source of
life. Book £12.99 from Pavillion books.