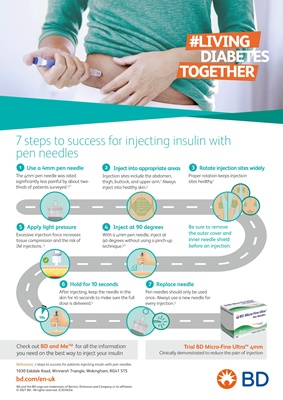 with the BD and Me™ insulin
education platform
Proper injection technique ensures that
insulin is delivered as it is intended1
That's why we've made the BD and Me™
education platform free for you and your family.
26 bite-sized sections of the best techniques and
advice for injecting insulin, helping you sharpen
your technique and live better with diabetes.
1.Blanco M, Hernández MT, Strauss KW, Amaya M. Prevalence and risk factors of lipohypertrophy in insulin-injecting patients with diabetes.
Diabetes Metab. 2013 Oct;39(5):445-53. doi: 10.1016/j.diabet.2013.05.006. Epub 2013 Jul 22.
Access with code: UK-01-KQCR
BD and Me™