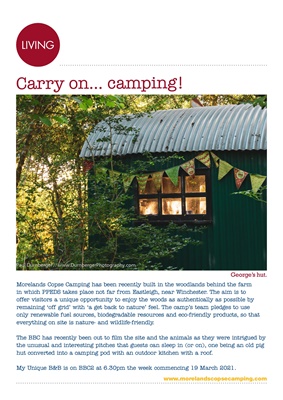 LIVINGLIVING
Carry on... camping!
Morelands Copse Camping has been recently built in the woodlands behind the farm
in which PPEDS takes place not far from Eastleigh, near Portsmouth. The aim is to
offer visitors a unique opportunity to enjoy the woods as authentically as possible by
remaining 'off grid' with 'a get back to nature' feel. The camp's team pledges to use
only renewable fuel sources, biodegradable resources and eco-friendly products, so that
everything on site is nature- and wildlife-friendly.
The BBC has recently been out to film the site and the animals as they were intrigued by
the unusual and interesting pitches that guests can sleep in (or on), one being an old pig
hut converted into a camping pod with an outdoor kitchen with a roof.