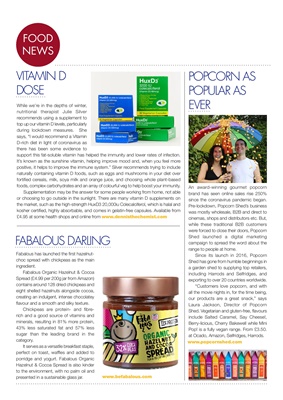 KIT
VITAMIN D
DOSE
While we're in the depths of winter,
nutritional therapist Julie Silver
recommends using a supplement to
top up our vitamin D levels, particularly
during lockdown measures. She
says, "I would recommend a Vitamin
D-rich diet in light of coronavirus as
there has been some evidence to
support this fat-soluble vitamin has helped the immunity and lower rates of infection.
It's known as the sunshine vitamin, helping improve mood and, when you feel more
positive, it helps to improve the immune system." Silver recommends trying to include
naturally containing vitamin D foods, such as eggs and mushrooms in your diet over
fortified cereals, milk, soya milk and orange juice, and choosing whole plant-based
foods, complex carbohydrates and an array of colourful veg to help boost your immunity.
Supplementation may be the answer for some people working from home, not able
or choosing to go outside in the sunlight. There are many vitamin D supplements on
the market, such as the high-strength HuxD3 20,000iu Colecalciferol, which is halal and
kosher certified, highly absorbable, and comes in gelatin-free capsules. Available from
£4.95 at some health shops, including www.dennisthechemist.com
POPCORN AS
POPULAR AS
EVER
FOOD
NEWS
FABALOUS DARLING
Fabalous has launched the first hazelnutchoc spread
with chickpeas as the main
ingredient.
Fabalous Organic Hazelnut & Cocoa
Spread (£4.99 per 200g jar from Amazon)
contains around 128 dried chickpeas and
eight shelled hazelnuts alongside cocoa,
creating an indulgent, intense chocolatey
flavour and a smooth and silky texture.
Chickpeas are protein- and fibrerich and a good source
of vitamins and
minerals, resulting in 81% more protein,
43% less saturated fat and 57% less
sugar than the leading brand in the
category.
It serves as a versatile breakfast staple,
perfect on toast, waffles and added to
porridge and yogurt. Fabalous Organic
Hazelnut & Cocoa Spread is also kinder
to the environment, with no palm oil and
presented in a sustainable glass jar. www.befabalous.com
An award-winning gourmet popcorn
brand has seen online sales rise 250%
since the coronavirus pandemic began.
Pre-lockdown, Popcorn Shed's business
was mostly wholesale, B2B and direct to
cinemas, shops and distributors etc. But,
while these traditional B2B customers
were forced to close their doors, Popcorn
Shed launched a digital marketing
campaign to spread the word about the
range to people at home.
Since its launch in 2016, Popcorn
Shed has gone from humble beginnings in
a garden shed to supplying top retailers,
including Harrods and Selfridges, and
exporting to over 20 countries worldwide.
"Customers love popcorn, and with
all the movie nights in, for the time being,
our products are a great snack," says
Laura Jackson, Director of Popcorn
Shed.Vegetarian and gluten-free, flavours
include Salted Caramel, Say Cheese!,
Berry-licious, Cherry Bakewell while Mini
Pop! is a fully vegan range. From £3.50).
at Ocado, Amazon, Selfridges, Harrods.