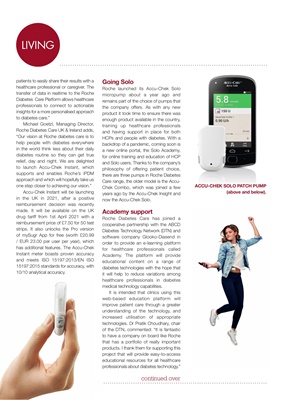 LIVINGLIVING
professional or caregiver and the
transfer of data in realtime to the Roche
Diabetes Care Platform allows healthcare
professionals to connect to actionable
insights for a more personalised approach
to diabetes care"
Goetzl adds, "Our vision at Roche
diabetes care is to help people with
diabetes everywhere in the world think
less about their daily diabetes routine so
they can get true relief, day and night.
We are delighted to launch Accu-Chek
Instant, which supports and enables
Roche's iPDM approach and which
will hopefully take us one step closer to
achieving our vision."
Accu-Chek Instant will be launching
in the UK in 2021, after a positive
reimbursement decision was recently
made. It will be available on the UK
drug tariff from 1st April 2021 with a
reimbursement price of £7.50 for 50 test
strips. It also unlocks the Pro version
of mySugr App for free (worth £20.99
/ EUR 23.00 per user per year), which
has additional features. The Accu-Chek
Instant meter boasts proven accuracy
and meets ISO 15197:2013/EN ISO
15197:2015 standards for accuracy, with
10/10 analytical accuracy.
ACCU-CHEK SOLO PATCH PUMP
(above and below).
Going Solo
Roche launched its Accu-Chek Solo
micropump about a year ago and
remains part of the choice of pumps that
the company offers. As with any new
product it took time to ensure there was
enough product available in the country,
training up healthcare professionals
and having support in place for both
HCP's and people with diabetes with a
backdrop of a pandemic, coming soon
is new online portal, the Solo Academy,
for online training and education of HCP
and Solo users. Thanks to the company's
philosophy of offering patient choice,
there are three pumps in Roche Diabetes
Care range, the older model is the AccuChek
Combo, which was joined a few
years ago by the Accu-Chek Insight and
now the Accu-Chek Solo.
Academy support
Roche Diabetes Care has joined a
cooperative partnership with the ABCD
Diabetes Technology Network (DTN) and
software company Glooko-Diasend in
order to provide an e-learning platform
for healthcare professionals called
Academy. The platform will provide
educational content on a range of
diabetes technologies with the hope that
it will help to reduce variations among
healthcare professionals in diabetes
medical technology capabilities.
It is intended that clinics using this
web-based education platform will
improve patient care through a greater
understanding of the technology, and
increased utilisation of appropriate
technologies. Dr Pratik Choudhary, chair
of the DTN, commented: "It is fantastic
to have a company on board like Roche
that has a portfolio of really important
products. I thank them for supporting this
project that will provide easy-to-access
educational resources for all healthcare
continued over