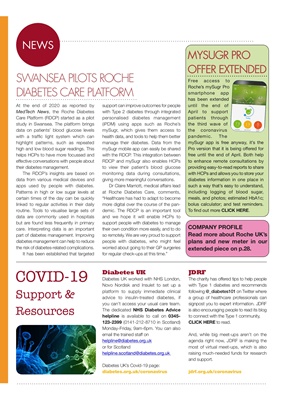 NEWS
SWANSEA PILOTS ROCHE
DIABETES CARE PLATFORM
At the end of 2020 as reported by
MedTech News, the Roche Diabetes
Care Platform (RDCP) was launched as a
pilot in Swansea. The platform brings data
on patients' blood glucose levels with a
traffic light system which can highlight
patterns, such as repeated high and low
blood sugar readings. This helps HCPs
to have more focussed and effective
conversations with people about their
diabetes management.
The RDCP's insights are based on
data from various medical devices and
apps used by people with diabetes, so
patterns in high or low sugar levels at
certain times of the day can be quickly
linked to regular activities in their daily
routine. Tools to visualise large sets of
data are commonly used in hospitals
but are found less frequently in pri-mary
care. Interpreting data is an important
part of diabetes management. Improving
diabetes management can help to reduce
the risk of diabetes-related complications.
It has been established that targeted
Free access to
Roche's mySugr Pro
smartphone app
has been extended
until the end of
April to support
patients through
the third wave of
the coronavirus
pandemic. The
mySugr app is free anyway, it's the
Pro version that it is being offered for
free until the end of April. Both help
to enhance remote consultations by
providing easy-to-read reports to share
with HCPs and allows you to store your
diabetes information in one place in
such a way that's easy to understand,
including logging of blood sugar,
meals, and photos; estimated HbA1c;
bolus calculator; and test reminders.
To find out more CLICK HERE.
MYSUGR PRO
OFFER EXTENDED
support can improve outcomes for people
with Type 2 diabetes through integrated
personalised diabetes management
(iPDM) using apps such as mySugr, which
gives them access to their health data and
tools to help them better manage their
diabetes. Data from the mySugr mobile
app can easily be shared with the RDCP.
This in-tegration between the RDCP and
mySugr also enables HCPs to view their
patient's blood glucose monitoring data
during consultations, allowing for more
meaningful conversations.
Dr Claire Marriott, medical affairs lead
at Roche Diabetes Care, commented,
"Healthcare has had to adapt to become
more digital over the course of the pandemic. The
RDCP is an important tool and
we hope it will enable HCPs to support
people with diabetes to manage their
own condition more easily, and to do so
remote-ly. We are very proud to support
people with diabetes, who might feel
worried about going to their GP surgeries
for regular check-ups at this time."
COMPANY PROFILE
Read more about Roche UK's
plans and new meter in our
extended piece on p. TK.
Diabetes UK
Diabetes UK worked with NHS London,
Novo Nordisk and Insulet to set up a
platform to supply immediate clinical
advice to insulin-treated diabetes, if
you can't access your usual care team.
The dedicated NHS Diabetes Advice
helpline is available to call on 0345-
123-2399 (0141-212-8710 in Scotland)
Monday-Friday, 9am-6pm. You can also
email the trained staff on
or for Scotland
helpline.scotland@diabetes.org.uk
Diabetes UK's Covid-19 page:
diabetes.org.uk/coronavirus
JDRF
The charity has offered tips to help people
with Type 1 diabetes and recommends
following @_diabetes101 on Twitter where
a group of healthcare professionals can
signpost you to expert information. JDRF
is also encouraging people to read its blog
to connect with the Type 1 community,
CLICK HERE to read.
And, while big meet-ups aren't on the
agenda right now, JDRF is making the
most of virtual meet-ups, which is also
raising much-needed funds for research
and support.
jdrf.org.uk/coronavirus
COVID-19
Support &
Resources