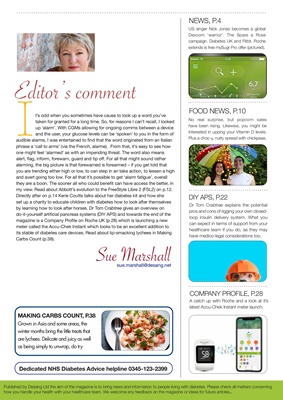 Published by Desang Ltd the aim of the magazine is to bring news and information to people living with diabetes. Please check all matters concerning
how you handle your health with your healthcare team. We welcome any feedback on the magazine or ideas for future articles..
Sue Marshall
If you have the ti- the condition we
Editor's comment
Cities Changing Diab
STREET LIVES, P.24
NEWS, P.4
Pump warranties extended due to pandemi
An online Acade.
NEWS REPORT, P.9
YUMBRIA, P.34
With
Master Ch
MAKING CARBS COUNT, P.36
Dedicated NHS Diabetes Advice helpline 0345-123-2399