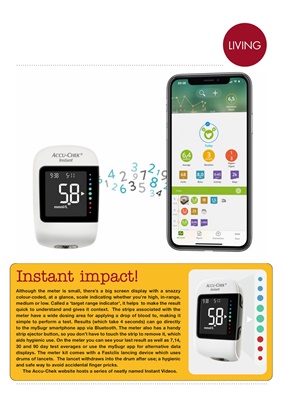 KITLIVING
Instant impact!
Although the meter is small, there's a big screen display with a snazzy
colour-coded, at a glance, scale indicating whether you're high, in-range,
medium or low. Called a 'target range indicator', it helps to make the result
quick to understand and gives it context. The strips associated with the
meter have a wide dosing area for applying a drop of blood to, making it
simple to perform a test. Results (which take 4 seconds) can go directly
to the mySugr smartphone app via Bluetooth. The meter also has a handy
strip ejector button, so you don't have to touch the strip to remove it, which
aids hygienic use. On the meter you can see your last result as well as 7,14,
30 and 90 day test averages or use the mySugr app for alternative data
displays. The meter kit comes with a Fastclix lancing device which uses
drums of lancets. The lancet withdraws into the drum after use; a hygienic
and safe way to avoid accidental finger pricks.
The Accu-Chek website hosts a series of neatly named Instant Videos.