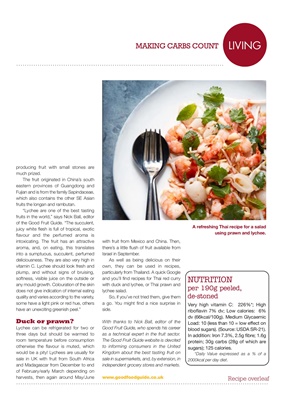 KITLIVING
MAKING CARBS COUNT
Recipe overleaf
Very high vitamin C: 226%*; High
riboflavin 7% dv; Low calories: 6%
dv (66kcal/100g). Medium Glycaemic
Load: 10 (less than 10 = low effect on
blood sugars). (Source: USDA SR-21).
In addition: Iron 7.3%, 2.5g fibre; 1.6g
protein; 30g carbs (28g of which are
sugars); 125 calories.
*Daily Value expressed as a % of a
2000kcal per day diet.
NUTRITION
per 190g peeled,
de-stoned
producing fruit with small stones are
much prized.
The fruit originated in China's south
eastern provinces of Guangdong and
Fujian and is from the family Sapindaceae,
which also contains the other SE Asian
fruits the longan and rambutan.
"Lychee are one of the best tasting
fruits in the world," says Nick Ball, editor
of the Good Fruit Guide. "The succulent,
juicy white flesh is full of tropical, exotic
flavour and the perfumed aroma is
intoxicating. The fruit has an attractive
aroma, and, on eating, this translates
into a sumptuous, succulent, perfumed
deliciousness. They are also very high in
vitamin C. Lychee should look fresh and
plump, and without signs of bruising,
softness, visible juice on the outside or
any mould growth. Colouration of the skin
does not give indication of internal eating
quality and varies according to the variety,
some have a light pink or red hue, others
have an unexciting greenish peel."
Duck or prawn?
Lychee can be refrigerated for two or
three days but should be warmed to
room temperature before consumption
otherwise the flavour is muted, which
would be a pity! Lychees are usually for
sale in UK with fruit from South Africa
and Madagascar from December to end
of February/early March depending on
harvests, then again around May/June
with fruit from Mexico and China. Then,
there's a little flush of fruit available from
Israel in September.
As well as being delicious on their
own, they can be used in recipes,
particularly from Thailand. A quick Google
and you'll find recipes for Thai red curry
with duck and lychee, or Thai prawn and
lychee salad.
So, if you've not tried them, give them
a go. You might find a nice surprise in
side.
With thanks to Nick Ball, editor of the
Good Fruit Guide, who spends his career
as a technical expert in the fruit sector.
The Good Fruit Guide website is devoted
to informing consumers in the United
Kingdom about the best tasting fruit on
sale in supermarkets, and, by extension, in
independent grocery stores and markets.
A refreshing Thai recipe for a salad
using prawn and lychee.