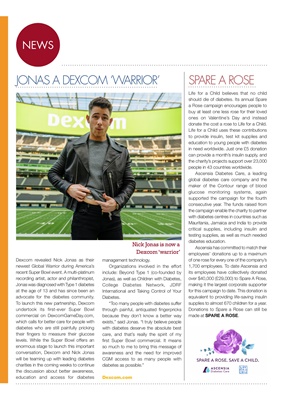 NEWS
JONAS A DEXCOM 'WARROR' SPARE A ROSE
Life for a Child believes that no child
should die of diabetes. Its annual Spare a
Rose campaign encourages people to buy
at least one less rose for their loved ones
on Valentine's Day and instead donate
the cost for a rose to Life for a Child.
Life for a Child uses these contributions
to provide insulin, test kit supplies and
education to young people with diabetes
in need worldwide. Just one £5 donation
can provide a month's insulin supply, and
the charity's projects support over 23,000
people in 43 countries worldwide.
Ascensia Diabetes Care, a leading
global diabetes care company and the
maker of the Contour range of blood
glucose monitoring systems, again
supported the campaign for the fourth
consecutive year. The funds raised from
the campaign enable the charity to partner
with diabetes centres in countries such as
Mauritania, Jamaica and India to provide
critical supplies, including insulin and
testing supplies, as well as much needed
diabetes education. The programme
currently supports over 22,000 young
people in 43 countries.
Ascensia has committed to match their
employees' donations up to a maximum
of one rose for every one of the company's
1,700 employees. To date Ascensia and
its employees have collectively donated
over $40,000 (£29,000) to Spare A Rose,
making it the largest corporate supporter
for this campaign to date. This donation is
equivalent to providing life-saving insulin
supplies to almost 670 children for a year.
Donations to Spare a Rose can still be
made at SPARE A ROSE.
Dexcom revealed Nick Jonas as their
newest Global Warrior during America's
recent Super Bowl event. A multi-platinum
recording artist, actor and philanthropist,
Jonas was diagnosed with Type 1 diabetes
at the age of 13 and has since been an
advocate for the diabetes community.
To launch this new partnership, Dexcom
undertook its first-ever Super Bowl
commercial on DexcomGameDay.com,
which calls for better care for people with
diabetes who are still painfully pricking
their fingers to measure their glucose
levels. While the Super Bowl offers an
enormous stage to launch this important
conversation, Dexcom and Nick Jonas
will be teaming up with leading diabetes
charities in the coming weeks to continue
the discussion about better awareness,
education and access for diabetes
management technology.
"Too many people with diabetes suffer
through painful, antiquated fingerpricks
because they don't know a better way
exists," said Jonas. "I truly believe people
with diabetes deserve the absolute best
care, and that's really the spirit of my
first Super Bowl commercial. It means
so much to me to bring this message of
awareness and the need for improved
CGM access to as many people with
diabetes as possible."
While the Super Bowl offered an
enormous stage to launch this important
conversation about better awareness,
education and access for diabetes
management technology. Organizations
involved in the effort include the following
organisations: Beyond Type 1 (cofounded by Jonas), as well as Children
with Diabetes, College Diabetes Network,
JDRF International and Taking Control of
Your Diabetes.
Dexcom.com
Nick Jonas is now a
Dexcom 'warrior'f