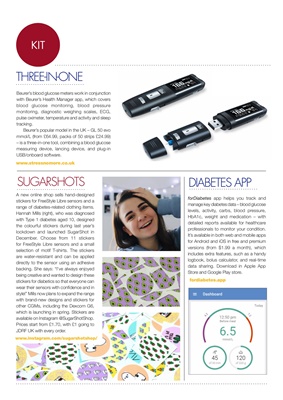 KIT
THREE-IN-ONE
Beurer's blood glucose meters work in
conjunction with Beurer's Health Manager
app, which covers blood glucose
monitoring, blood pressure monitoring,
diagnostic weighing scales, ECG, pulse
oximeter, temperature and activity and
sleep tracking.
Beurer's popular model in the UK -
GL 50 evo mmol/L (from £64.99, packs of
50 strips £24.99) - is a three-in-one tool,
combining a blood glucose measuring
SUGARSHOTS DIABETES APP
forDiabetes app helps you track and
manage key diabetes data - blood glucose
levels, activity, carbs, blood pressure,
HbA1c, weight and medication - with
detailed reports available for healthcare
professionals to monitor your condition.
It's available in both web and mobile apps
for Android and iOS in free and premium
versions (from $1.99 a month), which
includes extra features, such as a handy
logbook, bolus calculator, and real-time
data sharing. Download in Apple App
Store and Google Play store.
A new online shop sells hand-designed
stickers for FreeStyle Libre sensors and a
range of diabetes-related clothing items.
Hannah Mills (right), who was diagnosed
with Type 1 diabetes aged 10, designed
the colourful stickers during last year's
lockdown and launched SugarShot in
December. Choose from 11 stickers
for FreeStyle Libre sensors and a small
selection of motif T-shirts. The stickers
are water-resistant and can be applied
directly to the sensor using an adhesive
backing. She says: "I've always enjoyed
being creative and wanted to design these
stickers for diabetics so that everyone can
wear their sensors with confidence and in
style!" Mills now plans to expand the range
with brand-new designs and stickers for
other CGMs, including the Dexcom G6,
which is launching in spring. Stickers are
available on Instagram @SugarShotShop.
Prices start from £1.70, with £1 going to
JDRF UK with every order.