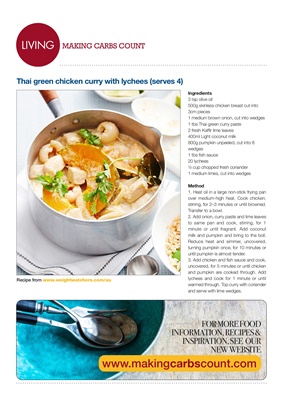 LIVINGLIVING
Thai green chicken curry with lychees (serves 4)
MAKING CARBS COUNT
Ingredients
3 tsp olive oil
500g skinless chicken breast cut into
3cm pieces
1 medium brown onion, cut into wedges
1 tbs Thai green curry paste
2 fresh Kaffir lime leaves
400ml Light coconut milk
800g pumpkin unpeeled, cut into 8
wedges
1 tbs fish sauce
20 lychees
½ cup chopped fresh coriander
1 medium limes, cut into wedges
Method
1. Heat oil in a large non-stick frying pan
over medium-high heat. Cook chicken,
stirring, for 2-3 minutes or until browned.
Transfer to a bowl.
2. Add onion, curry paste and lime leaves
to same pan and cook, stirring, for 1
minute or until fragrant. Add coconut
milk and pumpkin and bring to the boil.
Reduce heat and simmer, uncovered,
turning pumpkin once, for 10 minutes or
until pumpkin is almost tender.
3. Add chicken and fish sauce and cook,
uncovered, for 5 minutes or until chicken
and pumpkin are cooked through. Add
lychees and cook for 1 minute or until
warmed through. Top curry with coriander
and serve with lime wedges.
FOR MORE FOOD
INFORMATION, RECIPES &
INSPIRATION, SEE OUR
NEW WEBSITE
Recipe from www.weightwatchers.com/au
CARB COUNT per serving