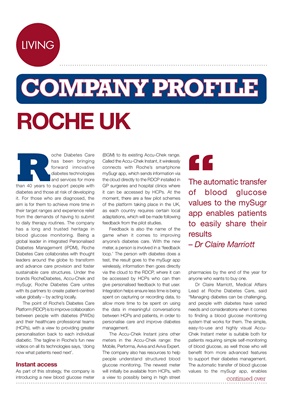 LIVINGLIVING
continued over
"It was a Roche Diabetes
Care has been bringing
forward innovative
diabetes technologies
and services for more
than 40 years to support people with
diabetes and those at risk to achieve
more time in their target ranges and
experience relief from the demands
of having to submit to daily therapy
routines. It has a long and trusted
heritage in blood glucose monitoring.
Being a global leader in integrated
Personalised Diabetes Management
(iPDM), Roche Diabetes Care collaborates
with thought leaders around the globe to
transform and advance care provision and
foster sustainable care structures. Under
the brands RocheDiabetes, Accu-Chek
and mySugr, Roche Diabetes Care unites
with its partners to create patient-centred
value globally by acting locally.
The point of Roche's Diabetes Care
Platform (RDCP) is to improve collaboration
between people with diabetes (PWDs)
and their healthcare professional teams
(HCPs), with a view to providing greater
personalisation back to each individual
diabetic. The tagline in Roche's fun new
videos on all its technologies says, 'doing
now what patients need next'.
Instant access
As part of this strategy, the company is
introducing a new blood glucose meter
(BGM) to its existing Accu-Chek range.
Called the Accu-Chek Instant, it wirelessly
connects with Roche's smartphone
mySugr app, which sends information via
the cloud directly to the RDCP installed in
GP surgeries and hospital clinics where
it can be accessed by HCPs. At the
moment, there are a few pilot schemes
of the platform taking place in the UK,
as each country requires certain local
adaptations, which will be made following
feedback from the pilot studies.
Feedback is also the name of the
game when it comes to improving
anyone's diabetes care. With the new
meter, a person is involved in a 'feedback
loop.' The person with diabetes does a
test, the result goes to the mySugr app
wirelessly, information then goes directly
via the cloud to the RDCP, where it can
be accessed by HCPs who can then
give personalised feedback to that user.
Integration helps ensure less time is being
spent on capturing or recording data, to
allow more time to be spent on using
the data in meaningful conversations
between HCPs and patients, in order to
personalise care and improve diabetes
management.
The Accu-Chek Instant joins other
meters in the Accu-Chek range: the
Mobile, Performa, Aviva and Aviva Expert.
The company also has resources to help
people understand structured blood
glucose monitoring. The newest meter
will initially be available from HCPs, with
a view to possibly being in high street
pharmacies by the end of the year for
anyone who wants to buy one.
COMPANY PROFILE
COMPANY PROFILE
ROCHE UK
"The automatic transfer
of blood glucose
values to the mySugr
app enables patients
to easily share their
results
- Dr Claire Marriott
Dr Claire Marriott, Medical Affairs Lead
at Roche Diabetes Care, said "Managing
diabetes can be challenging, and people
with diabetes have varied needs and
considerations when it comes to finding
a blood glucose monitoring system that
works for them. The simple, easy-to-use
and highly visual Accu-Chek Instant meter
is suitable both for patients requiring
simple self-monitoring of blood glucose,
as well those who will benefit from more
advanced features to support their
diabetes management.The automatic
transfer of blood glucose values to the
mySugr app, enables patients to easily
share their results with a healthcare