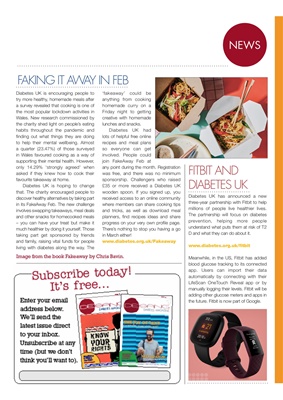 NEWS
Diabetes UK is encouraging people to
try more healthy, homemade meals after
a survey revealed that cooking is one of
the most popular lockdown activities in
Wales. New research commissioned by
the charity shed light on people's eating
habits throughout the pandemic and
finding out what things they are doing
to help their mental wellbeing. Almost
a quarter (23.47%) of those surveyed
in Wales favoured cooking as a way of
supporting their mental health. However,
only 14.29% 'strongly agreed' when
asked if they knew how to cook their
favourite takeaway at home.
Diabetes UK is hoping to change
that. The charity encouraged people to
discover healthy alternatives by taking part
in its FakeAway Feb. The new challenge
involved swapping out takeaways, meal
deals and other snacks for homecooked
meals - you can have your treat but make
it much healthier by doing it yourself.
Those taking part get sponsored by
friends and family, raising vital funds for
people living with diabetes along the way.
Diabetes UK has announced a new
three-year partnership with Fitbit to help
millions of people live healthier lives.
The partnership will focus on diabetes
prevention, helping more people
understand what puts them at risk of T2
D and what they can do about it.
Meanwhile, in the US, Fitbit has added
blood glucose tracking to its connected
app. Users can import their data
automatically by connecting with their
LifeScan OneTouch Reveal app or by
manually logging their levels. Fitbit will be
adding other glucose meters and apps in
the future. Fitbit is now part of Google.
The 'fakeaway' could be
anything from cooking
homemade curry on a
Friday night to getting
creative with homemade
lunches and snacks.
Diabetes UK had
lots of helpful free online
recipes and meal plans
so everyone can get
involved. People could
join FakeAway Feb at
any point during the month. Registration
was free, and there was no minimum
sponsorship. Challengers who raised
£35 or more received a Diabetes UK
wooden spoon. If you signed up, you
received access to an online community
where members can share cooking tips
and tricks, as well as download meal
planners, find recipes ideas and share
progress on your very own profile page.
There's nothing to stop you having a go
in March either!
FAKING IT AWAY IN FEB
FITBIT AND
DIABETES UK
Image from the book Fakeaway by Chris Bavin.