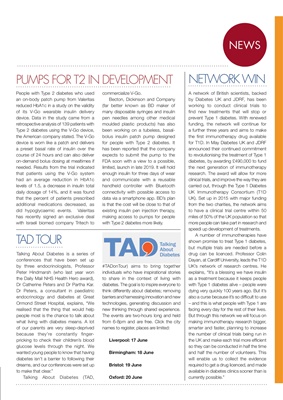 NEWS
PUMPS FOR T2 IN DEVELOPMENT
People with Type 2 diabetes who used
an on-body patch pump from Valeritas
reduced HbA1c in a study on the validity
of its V-Go wearable insulin delivery
device. Data in the study came from a
retrospective analysis of 139 patients with
Type 2 diabetes using the V-Go device,
the American company stated. The V-Go
device is worn like a patch and delivers
a preset basal rate of insulin over the
course of 24 hours and can also deliver
on-demand bolus dosing at mealtimes if
needed. Results from the trial indicated
that patients using the V-Go system
had an average reduction in HbA1c
levels of 1.5, a decrease in insulin total
daily dosage of 14%, and it was found
that the percent of patients prescribed
additional medications decreased, as
did hypoglycaemic events. Valeritas
has recently signed an exclusive deal
with Israeli biomed company Tritech to
commercialize V-Go.
Becton, Dickinson and Company
(far better known as BD maker of
many disposable syringes and insulin
pen needles among other medical
moulded plastic products) has also
been working on a tubeless, basalbolus
insulin patch pump designed
for people with Type 2 diabetes. It
has been reported that the company
expects to submit the pump to the
FDA soon with a view to a possible,
limited, launch in late 2019. It will hold
enough insulin for three day so wear
and communicate with a reusable
handheld controller with Bluetooth
connectivity with possible access to
data via a smartphone app. BD's plan
is that the cost will be close to that of
existing insulin pen injection therapy,
making access to pumps for people
with Type 2 diabetes more likely.
NETWORK WIN
A network of British scientists, backed
by Diabetes UK and JDRF, has been
working to conduct clinical trials to
find new treatments that will stop or
prevent Type 1 diabetes. With renewed
funding, the network will continue for
a further three years and aims to make
the first immunotherapy drug available
for T1D. In May Diabetes UK and JDRF
announced their continued commitment
to revolutionising the treatment of Type 1
diabetes, by awarding £490,000 to fund
the next generation of immunotherapy
research. The award will allow for more
clinical trials, and improve the way they are
carried out, through the Type 1 Diabetes
UK Immunotherapy Consortium (T1D
UK). Set up in 2015 with major funding
from the two charities, the network aims
to have a clinical trial centre within 50
miles of 50% of the UK population so that
more people can take part in research and
speedi up development of treatments.
A number of immunotherapies have
shown promise to treat Type 1 diabetes,
but multiple trials are needed before a
drug can be licenced. Professor Colin
Dayan, at Cardiff University, leads the T1D
UK's network of research centres. He
explains, "It's a blessing we have insulin
as a treatment because it keeps people
with Type 1 diabetes alive - people were
dying very quickly 100 years ago. But it's
also a curse because it's so difficult to use
- and this is what people with Type 1 are
facing every day for the rest of their lives.
But through this network we will focus on
making immunotherapy research bigger,
smarter and faster, planning to increase
the number of clinical trials being run in
the UK and make each trial more efficient
so they can be conducted in half the time
and half the number of volunteers. This
will enable us to collect the evidence
required to get a drug licenced, and made
available in diabetes clinics sooner than is
currently possible."
TAD TOUR
Talking About Diabetes is a series of
conferences that have been set up
by three endocrinologists, Professor
Peter Hindmarsh (who last year won
the Daily Mail NHS Health Hero award),
Dr Catherine Peters and Dr Partha Kar.
Dr Peters, a consultant in paediatric
endocrinology and diabetes at Great
Ormond Street Hospital, explains, "We
realised that the thing that would help
people most is the chance to talk about
what living with diabetes means. A lot
of our parents are very sleep-deprived
because they're constantly fingerpricking to check their children's
blood
glucose levels through the night. We
wanted young people to know that having
diabetes isn't a barrier to following their
dreams, and our conferences were set up
to make that clear."
Talking About Diabetes (TAD) aims
to bring together individuals who have
inspirational stories to share in the
context of living with diabetes. The goal
is to inspire everyone to think differently
about diabetes; removing barriers
and harnessing innovation and new
technologies, generating discussion and
new thinking through shared experience.
On tour in June (#TADonTour), the
talks are two-hours long and held from
6-8pm and are free. Click the links to
register though, as places are limited.
Events are taking place in Liverpool on
17 June https://lnkd.in/dqua9yf , in
Birmingham on 18 June https://lnkd.in/
dN-cbsi, in Bristol on 19 June https://
lnkd.in/dJncCTu , and end in Oxford on
20 June https://lnkd.in/dcf6rjz