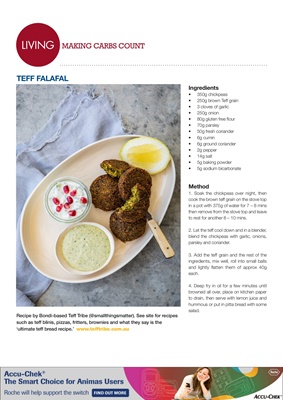 LIVINGLIVING
TEFF FALAFAL
Ingredients
• 350g chickpeas
• 250g brown Teff grain
• 3 cloves of garlic
• 250g onion
• 80g gluten free flour
• 70g parsley
• 50g fresh coriander
• 6g cumin
• 6g ground coriander
• 2g pepper
• 14g salt
• 5g baking powder
• 5g sodium bicarbonate
Method
1. Soak the chickpeas over night, then
cook the brown teff grain on the stove top
in a pot with 375g of water for 7 - 8 mins
then remove from the stove top and leave
to rest for another 8 - 10 mins.
2. Let the teff cool down and in a blender,
blend the chickpeas with garlic, onions,
parsley and coriander.
3. Add the teff grain and the rest of the
ingredients, mix well, roll into small balls
and lightly flatten them of approx 40g
each.
4. Deep fry in oil for a few minutes until
browned all over, place on kitchen paper
to drain, then serve with lemon juice and
hummous or put in pitta bread with some
salad.
MAKING CARBS COUNT
Recipe by Bondi-based Teff Tribe (@smallthingsmatter). See site for recipes
such as teff blinis, pizzas, fritters, brownies and what they say is the
'ultimate teff bread recipe.' www.tefftribe.com.au