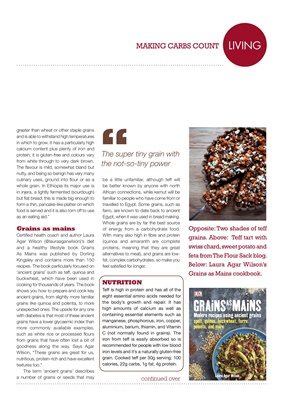 KITLIVING
greater than wheat or other staple grains
and is able to withstand high temperatures
in which to grow. It has a particularly high
calcium content plus plenty of iron and
protein; it is gluten-free and colours vary
from white through to very dark brown.
The flavour is mild, somewhat bland but
nutty, and being so benign has very many
culinary uses, ground into flour or as a
whole grain. In Ethiopia its major use is
in injera, a lightly fermented (sourdough)
but flat bread; this is made big enough to
form a thin, pancake-like platter on which
food is served and it is also torn off to use
as an eating aid."
Grains as mains
Certified health coach and author Laura
Agar Wilson (@lauraagarwilson)'s diet
and a healthy lifestyle book Grains
As Mains was published by Dorling
Kingsley and contains more than 150
recipes. The book particularly focused on
'ancient grains' such as teff, quinoa and
buckwheat, which have been used in
cooking for thousands of years. The book
shows you how to prepare and cook key
ancient grains, from slightly more familiar
grains like quinoa and polenta, to more
unexpected ones. The upside for any one
with diabetes is that most of these ancient
grains have a lower glycaemic index than
more commonly available examples,
such as white rice or processed flours
from grains that have often lost a bit of
goodness along the way. Says Agar
Wilson, "These grains are great for us,
nutritious, protein-rich and have excellent
textures too."
The term 'ancient grains' describes
a number of grains or seeds that may "The super tiny grain with
the not-so-tiny power
continued over
MAKING CARBS COUNT
be a little unfamiliar, although teff will
be better known by anyone with north
African connections, while kamut will be
familiar to people who have come from or
travelled to Egypt. Some grains, such as
farro, are known to date back to ancient
Egypt, when it was used in bread making.
Whole grains are by far the best source
of energy from a carbohydrate food.
With many also high in fibre and protein
(quinoa and amaranth are complete
proteins, meaning that they are great
alternatives to meat), and grains are lowfat, complex
carbohydrates, so make you
feel satisfied for longer.
Opposite: Two shades of teff
grains. Above: Teff tart with
swiss chard, sweet potato and
feta from The Flour Sack blog.
Below: Laura Agar Wilson's
Grains as Mains cookbook.
Teff is high in protein and has all of the
eight essential amino acids needed for
the body's growth and repair. It has
high amounts of calcium as well as
containing essential elements such as
manganese, phosphorous, iron, copper,
aluminium, barium, thiamin, and Vitamin
C (not normally found in grains). The
iron from teff is easily absorbed so is
recommended for people with low blood
iron levels and it's a naturally gluten-free
grain. Cooked teff per 30g serving: 100
calories, 22g carbs, 1g fat, 4g protein.
NUTRITION