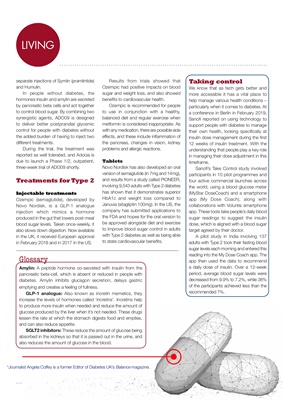 LIVINGLIVING
separate injections of Symlin (pramlintide)
and Humulin.
In people without diabetes, the
hormones insulin and amylin are secreted
by pancreatic beta cells and act together
to control blood sugar. By combining two
synergistic agents, ADO09 is designed
to deliver better postprandial glycemic
control for people with diabetes without
the added burden of having to inject two
different treatments.
During the trial, the treatment was
reported as well tolerated, and Adocia is
due to launch a Phase 1/2, outpatient,
three-week trial of ADO09 shortly.
Treatments for Type 2
Injectable treatments
Ozempic (semaglutide), developed by
Novo Nordisk, is a GLP-1 analogue
injection which mimics a hormone
produced in the gut that lowers post-meal
blood sugar levels. Taken once-weekly, it
also slows down digestion. Now available
in the UK, it received European approval
in February 2018 and in 2017 in the US.
Results from trials showed that
Ozempic had positive impacts on blood
sugar and weight loss, and also showed
benefits to cardiovascular health.
Ozempic is recommended for people
to use in conjunction with a healthy,
balanced diet and regular exercise when
metformin is considered inappropriate. As
with any medication, there are possible side
effects, and these include inflammation of
the pancreas, changes in vision, kidney
problems and allergic reactions.
Tablets
Novo Nordisk has also developed an oral
version of semaglutide (in 7mg and 14mg),
and results from a study called PIONEER,
involving 9,543 adults with Type 2 diabetes
has shown that it demonstrates superior
HbA1c and weight loss compared to
Januvia (sitagliptin 100mg). In the US, the
company has submitted applications to
the FDA and hopes for the oral version to
be approved alongside diet and exercise
to improve blood sugar control in adults
with Type 2 diabetes as well as being able
to state cardiovascular benefits.
Amylin: A peptide hormone co-secreted with insulin from the
pancreatic beta-cell, which is absent or reduced in people with
diabetes. Amylin inhibits glucagon secretion, delays gastric
emptying and creates a feeling of fullness.
GLP-1 analogue: Also known as incretin memetics, they
increase the levels of hormones called 'incretins'. Incretins help
to produce more insulin when needed and reduce the amount of
glucose produced by the liver when it's not needed. These drugs
lessen the rate at which the stomach digests food and empties,
and can also reduce appetite.
SGLT2 inhibitors: These reduce the amount of glucose being
absorbed in the kidneys so that it is passed out in the urine, and
also reduces the amount of glucose in the blood.
Taking control
We know that as tech gets better and
more accessible it has a vital place to
help manage various health conditions -
particularly when it comes to diabetes. At
a conference in Berlin in February 2019,
Sanofi reported on using technology to
support people with diabetes to manage
their own health, looking specifically at
insulin dose management during the first
12 weeks of insulin treatment. With the
understanding that people play a key role
in managing their dose adjustment in this
timeframe,
Sanofi's Take Control study involved
participants in 10 pilot programmes and
four active commercial launches across
the world, using a blood glucose meter
(MyStar DoseCoach) and a smartphone
app (My Dose Coach), along with
collaborations with Voluntis smartphone
app. These tools take people's daily blood
sugar readings to suggest the insulin
dose, which is aligned with a blood sugar
target agreed by their doctor.
A pilot study in India involving 137
adults with Type 2 took their fasting blood
sugar levels each morning and entered this
reading into the My Dose Coach app. The
app then used the data to recommend
a daily dose of insulin. Over a 12-week
period, average blood sugar levels were
decreased from 9.9% to 7.2%, while 38%
of the participants achieved less than the
recommended 7%.
*Journalist Angela Coffey is a former Editor of Diabetes UK's Balance magazine.
Glossary