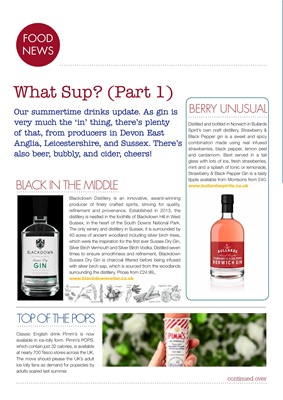 LIVINGLIVING
FOOD
NEWS
Our summertime drinks update. As gin is
very much the 'in' thing, there's plenty
of that, from producers in Devon East
Anglia, Leicestershire, and Sussex. There's
also beer, bubbly, and cider, cheers!
What Sup? (Part 1)
BLACK IN THE MIDDLE
Blackdown Distillery is an innovative, award-winning
producer of finely crafted spirits, striving for quality,
refinement and provenance. Established in 2013, the
distillery is nestled in the foothills of Blackdown Hill in West
Sussex, in the heart of the South Downs National Park.
The only winery and distillery in Sussex, it is surrounded by
40 acres of ancient woodland including silver birch trees,
which were the inspiration for the first ever Sussex Dry Gin,
Silver Birch Vermouth and Silver Birch Vodka. Distilled seven
times to ensure smoothness and refinement, Blackdown
Sussex Dry Gin is charcoal filtered before being infused
with silver birch sap, which is sourced from the woodlands
surrounding the distillery. Prices from £24.99,,
TOP OF THE POPS
Classic English drink Pimm's is now
available in ice-lolly form. Pimm's POPS,
which contain just 32 calories, is available
at nearly 700 Tesco stores across the UK.
The move should please the UK's adult
ice lolly fans as demand for popsicles by
adults soared last summer.
BERRY UNUSUAL
Distilled and bottled in Norwich in Bullards
Spirit's own craft distillery, Strawberry &
Black Pepper gin is a sweet and spicy
combination made using real infused
strawberries, black pepper, lemon peel
and cardamom. Best served in a tall
glass with lots of ice, fresh strawberries,
mint and a splash of tonic or lemonade,
Strawberry & Black Pepper Gin is a tasty
tipple available from Morrisons from £40.
continued over