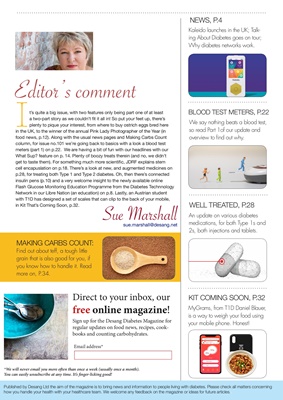 Published by Desang Ltd the aim of the magazine is to bring news and information to people living with diabetes. Please check all matters concerning
how you handle your health with your healthcare team. We welcome any feedback on the magazine or ideas for future articles..
Sue Marshall
With thanks all our 100th issue!
Keep on running, with top tips from
amateurs and pros on how to have
a good jog, run or marathon.
KEEP ON RUNNING, P.16.
Dr Monika Reddy talks to us about
microneedle CGM, research taking
place at Imperial College.
Jade Byrne has taken to the stage
with her own play, Pricks, about
living with Type 1 diabetes.
MY DIABETES KIT, P.24.
We go inside Pipers Farm to see
how their beef is raised (and their
pigs and poultry too) with info on
cooking with fats and oils, P.32.
MAKING CARBS COUNT:
Direct to your inbox, our
free online magazine!
Sign up for the Desang Diabetes Magazine for
regular updates on food news, recipes, cookbooks
and counting carbohydrates.
Email address*
*We will never email you more often than once a week (usually once a month).
You can easily unsubscribe at any time. It's finger-licking good!
A HELPING HAND, P.12.
A report about how using your
hands and fingers can help you to
keep control on portion sizes.
KIT COMING SOON, P.30.
• ISSUE •