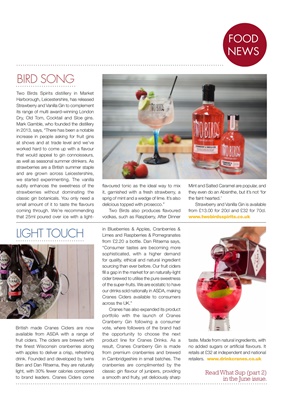 KITLIVING
Read What Sup (part 2)
in the June issue.
BIRD SONG
Two Birds Spirits distillery in Market
Harborough, Leicestershire, has released
Strawberry and Vanilla Gin to complement
its range of multi award-winning London
Dry, Old Tom, Cocktail and Sloe gins.
Mark Gamble, who founded the distillery
in 2013, says, "There has been a notable
increase in people asking for fruit gins
at shows and at trade level and we've
worked hard to come up with a flavour
that would appeal to gin connoisseurs,
as well as seasonal summer drinkers. As
strawberries are a British summer staple
and are grown across Leicestershire,
we started experimenting. The vanilla
subtly enhances the sweetness of the
strawberries without dominating the
classic gin botanicals. You only need a
small amount of it to taste the flavours
coming through. We're recommending
that 25ml poured over ice with a lightflavoured
tonic as the ideal way to mix
it, garnished with a fresh strawberry, a
sprig of mint and a wedge of lime. It's also
delicious topped with prosecco."
Two Birds also produces flavoured
vodkas, such as Raspberry, After Dinner
Mint and Salted Caramel are popular, and
they even do an Absinthe, but it's not 'for
the faint hearted.'
Strawberry and Vanilla Gin is available
from £13.00 for 20cl and £32 for 70cl.
LIGHT TOUCH
British made Cranes Ciders are now
available from ASDA with a range of
fruit ciders. The ciders are brewed with
the finest Wisconsin cranberries along
with apples to deliver a crisp, refreshing
drink. Founded and developed by twins
Ben and Dan Ritsema, they are naturally
light, with 30% fewer calories compared
to brand leaders. Cranes Ciders come
in Blueberries & Apples, Cranberries &
Limes and Raspberries & Pomegranates
from £2.20 a bottle. Dan Ritsema says,
"Consumer tastes are becoming more
sophisticated, with a higher demand
for quality, ethical and natural ingredient
sourcing than ever before. Our fruit ciders
fill a gap in the market for an naturally-light
cider brewed to utilise the pure sweetness
of the super-fruits. We are ecstatic to have
our drinks sold nationally in ASDA, making
Cranes Ciders available to consumers
across the UK."
Cranes has also expanded its product
portfolio with the launch of Cranes
Cranberry Gin following a consumer
vote, where followers of the brand had
the opportunity to choose the next
product line for Cranes Drinks. As a
result, Cranes Cranberry Gin is made
from premium cranberries and brewed
in Cambridgeshire in small batches. The
cranberries are complimented by the
classic gin flavour of junipers, providing
a smooth and fruity, yet deliciously sharp
taste. Made from natural ingredients, with
no added sugars or artificial flavours. It
retails at £32 at independent and national
retailers. www.drinkcranes.co.uk
FOOD
NEWS