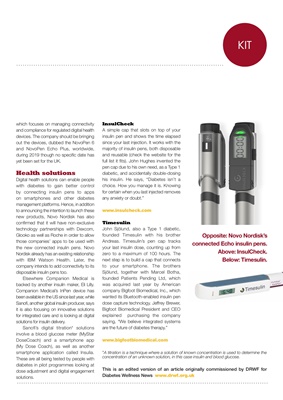 KIT
which focuses on managing connectivity
and compliance for regulated digital health
devices. The company should be bringing
out the devices, dubbed the NovoPen 6
and NovoPen Echo Plus, worldwide,
during 2019 though no specific date has
yet been set for the UK.
Health solutions
Digital health solutions can enable people
with diabetes to gain better control
by connecting insulin pens to apps
on smartphones and other diabetes
management platforms. Hence, in addition
to announcing the intention to launch these
new products, Novo Nordisk has also
confirmed that it will have non-exclusive
technology partnerships with Dexcom,
Glooko as well as Roche in order to allow
those companies' apps to be used with
the new connected insulin pens. Novo
Nordisk already has an existing relationship
with IBM Watson Health. Later, the
company intends to add connectivity to its
disposable insulin pens too.
Elsewhere Companion Medical is
backed by another insulin maker, Eli Lilly.
Companion Medical's InPen device has
been available in the US since last year, while
Sanofi, another global insulin producer, says
it is also focusing on innovative solutions
for integrated care and is looking at digital
solutions for insulin delivery.
Sanofi's digital titration* solutions
involve a blood glucose meter (MyStar
DoseCoach) and a smartphone app
(My Dose Coach), as well as another
smartphone application called Insulia.
These are all being tested by people with
diabetes in pilot programmes looking at
dose adjustment and digital engagement
solutions.
InsulCheck
A simple cap that slots on top of your
insulin pen and shows the time elapsed
since your last injection. It works with the
majority of insulin pens, both disposable
and reusable (check the website for the
full list it fits). John Hughes invented the
pen cap due to his own need, as a Type 1
diabetic, and accidentally double-dosing
his insulin. He says, "Diabetes isn't a
choice. How you manage it is. Knowing
for certain when you last injected removes
any anxiety or doubt."
Timesulin
John Sjölund, also a Type 1 diabetic,
founded Timesulin with his brother
Andreas. Timesulin's pen cap tracks
your last insulin dose, counting up from
zero to a maximum of 100 hours. The
next step is to build a cap that connects
to your smartphone. The brothers
Sjölund, together with Marcel Botha,
founded Patients Pending Ltd, which
was acquired last year by American
company Bigfoot Biomedical, Inc., which
wanted its Bluetooth-enabled insulin pen
dose capture technology. Jeffrey Brewer,
Bigfoot Biomedical President and CEO
explained purchasing the company
saying, "We believe integrated systems
are the future of diabetes therapy."
*A titration is a technique where a solution of known concentration is used to determine the
concentration of an unknown solution, in this case insulin and blood glucose.
This is an edited version of an article originally commissioned by DRWF for
Diabetes Wellness News www.drwf.org.uk
Opposite: Novo Nordisk's
connected Echo insulin pens.
Above: InsulCheck.
Below: Timesulin.