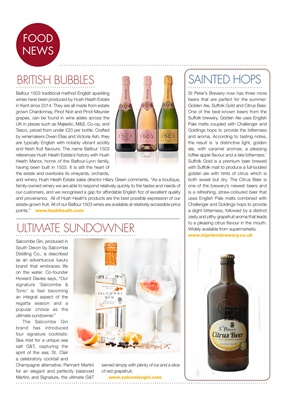 LIVINGLIVING
SAINTED HOPS
St Peter's Brewery now has three more
beers that are perfect for the summer:
Golden Ale, Suffolk Gold and Citrus Beer.
One of the best-known beers from the
Suffolk brewery, Golden Ale uses English
Pale malts coupled with Challenger and
Goldings hops to provide the bitterness
and aroma. According to tasting notes,
the result is 'a distinctive light, golden
ale, with caramel aromas, a pleasing
toffee apple flavour and a late bitterness.'
Suffolk Gold is a premium beer brewed
with Suffolk malt to produce a full-bodied
golden ale with hints of citrus which is
both sweet but dry. The Citrus Beer is
one of the brewery's newest beers and
is a refreshing, straw-coloured beer that
uses English Pale malts combined with
Challenger and Goldings hops to provide
a slight bitterness, followed by a distinct
zesty and pithy grapefruit aroma that leads
to a pleasing citrus flavour in the mouth.
Widely available from supermarkets.
BRITISH BUBBLES
Balfour 1503 traditional method English sparkling
wines have been produced by Hush Heath Estate
in Kent since 2014. They are all made from estate
grown Chardonnay, Pinot Noir and Pinot Meunier
grapes, can be found in wine aisles across the
UK in places such as Majestic, M&S, Co-op, and
Tesco, priced from under £20 per bottle. Crafted
by winemakers Owen Elias and Victoria Ash, they
are typically English with notably vibrant acidity
and fresh fruit flavours. The name Balfour 1503
references Hush Heath Estate's history with Hush
Heath Manor, home of the Balfour-Lynn family,
having been built in 1503. It is still the heart of
the estate and overlooks its vineyards, orchards,
and winery. Hush Heath Estate sales director Hilary Green comments, "As a boutique,
family-owned winery we are able to respond relatively quickly to the tastes and needs of
our customers, and we recognised a gap for affordable English fizz of excellent quality
and provenance. All of Hush Heath's products are the best possible expression of our
estate-grown fruit. All of our Balfour 1503 wines are available at relatively accessible price
points." www.hushheath.com
ULTIMATE SUNDOWNER
FOOD
NEWS
Salcombe Gin, produced in
South Devon by Salcombe
Distilling Co., is described
as an adventurous luxury
brand that embraces life
on the water. Co-founder
Howard Davies says, "Our
signature 'Salcombe &
Tonic' is fast becoming
an integral aspect of the
regatta season and a
popular choice as the
ultimate sundowner."
The Salcombe Gin
brand has introduced
four signature cocktails:
Sea mist for a unique sea
salt G&T, capturing the
spirit of the sea; St. Clair
a celebratory cocktail and
Champagne alternative; Pennant Martini
for an elegant and perfectly balanced
Martini; and Signature, the ultimate G&T
served simply with plenty of ice and a slice
of red grapefruit.