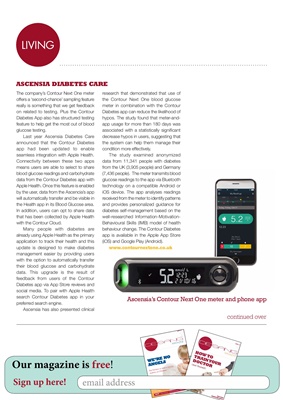 LIVINGLIVING
ISSUE 30
MAGAZINE
DESANG
PLUS • New Products • Groovy giveaways • News (for T1 and T2)
WE'RE NO
ANGELS
But business as usual is best for
diabetics at Christmas
MAKING
CARBS COUNT:
CHESTNUTS ROASTING
ON OPEN FIRES
Our magazine is free!
Sign up here! email address
ASCENSIA DIABETES
CARE
The company's Contour Next One meter
offers a 'second-chance' sampling feature
really is something that we get feedback
on related to testing. Plus the Contour
Diabetes App also has structured testing
feature to help get the most out of blood
glucose testing.
Last year Ascensia Diabetes Care
announced that the Contour Diabetes
app had been updated to enable
seamless integration with Apple Health.
Connectivity between these two apps
means users are able to select to share
blood glucose readings and carbohydrate
data from the Contour Diabetes app with
Apple Health. Once this feature is enabled
by the user, data from the Ascencia's app
will automatically transfer and be visible in
the Health app in its Blood Glucose area.
In addition, users can opt to share data
that has been collected by Apple Health
with the Contour Cloud.
Many people with diabetes are
already using Apple Health as the primary
application to track their health and this
update is designed to make diabetes
management easier by providing users
with the option to automatically transfer
their blood glucose and carbohydrate
data. This upgrade is the result of
feedback from users of the Contour
Diabetes app via App Store reviews and
social media. To pair with Apple Health
search Contour Diabetes app in your
preferred search engine.
Ascensia has also presented clinical
research that demonstrated that use of
the Contour Next One blood glucose
meter in combination with the Contour
Diabetes app can reduce the likelihood of
hypos. The study found that meter-andapp usage for more
than 180 days was
associated with a statistically significant
decrease hypos in users, suggesting that
the system can help them manage their
condition more effectively.
The study examined anonymized
data from 11,341 people with diabetes
from the UK (3,905 people) and Germany
(7,436 people). The meter transmits blood
glucose readings to the app via Bluetooth
technology on a compatible Android or
iOS device. The app analyses readings
received from the meter to identify patterns
and provides personalized guidance for
diabetes self-management based on the
well-researched Information-MotivationBehavioural
Skills (IMB) model of health
behaviour change. The Contour Diabetes
app is available in the Apple App Store
(iOS) and Google Play (Android).
www.
continued over
Ascensia's
Contour Next
One meter and
phone app