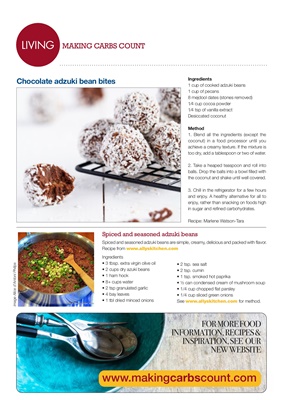 LIVINGLIVING
Chocolate adzuki bean bites
MAKING CARBS COUNT
Ingredients
1 cup of cooked adzuki beans
1 cup of pecans
8 mejdool dates (stones removed)
1⁄4 cup cocoa powder
1⁄4 tsp of vanilla extract
Desiccated coconut
Method
1. Blend all the ingredients (except the
coconut) in a food processor until you
achieve a creamy texture. If the mixture is
too dry, add a tablespoon or two of water.
2. Take a heaped teaspoon and roll into
balls. Drop the balls into a bowl filled with
the coconut and shake until well covered.
3. Chill in the refrigerator for a few hours
and enjoy. A healthy alternative for all to
enjoy, rather than snacking on foods high
in sugar and refined carbohydrates.
Recipe: Marlene Watson-Tara
FOR MORE FOOD
INFORMATION, RECIPES &
INSPIRATION, SEE OUR
NEW WEBSITE
Spiced and seasoned adzuki beans
Ingredients
• 3 tbsp. extra virgin olive oil
• 2 cups dry azuki beans
• 1 ham hock
• 8+ cups water
• 2 tsp granulated garlic
• 4 bay leaves
• 1 tbl dried minced onions
• 2 tsp. sea salt
• 2 tsp. cumin
• 1 tsp. smoked hot paprika
• ½ can condensed cream of mushroom soup
• 1/4 cup chopped flat parsley
• 1/4 cup sliced green onions
See www.allyskitchen.com for method.
image Alice d'Antoni Philips
Spiced and seasoned adzuki beans are simple, creamy, delicious and packed with flavor.
Recipe from www.allyskitchen.com