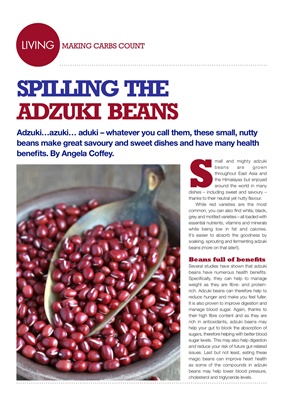 LIVINGLIVING MAKING CARBS COUNT
Adzuki…azuki… aduki - whatever you call them, these small, nutty
beans make great savoury and sweet dishes and have many health
benefits. By Angela Coffey.
SPILLING THE
ADZUKI BEANS Small and mighty adzuki
beans are grown
throughout East Asia and
the Himalayas but enjoyed
around the world in many
dishes - including sweet and savoury -
thanks to their neutral yet nutty flavour.
While red varieties are the most
common, you can also find white, black,
grey and mottled varieties - all loaded with
essential nutrients, vitamins and minerals
while being low in fat and calories.
It's easier to absorb the goodness by
soaking, sprouting and fermenting adzuki
beans (more on that later!).
Beans full of benefits
Several studies have shown that adzuki
beans have numerous health benefits.
Specifically, they can help to manage
weight as they are fibre- and proteinrich. Adzuki beans can therefore
help to
reduce hunger and make you feel fuller.
It is also proven to improve digestion and
manage blood sugar. Again, thanks to
their high fibre content and as they are
rich in antioxidants, adzuki beans may
help your gut to block the absorption of
sugars, therefore helping with better blood
sugar levels. This may also help digestion
and reduce your risk of future gut-related
issues. Last but not least, eating these
magic beans can improve heart health
as some of the compounds in adzuki
beans may help lower blood pressure,
cholesterol and triglyceride levels.