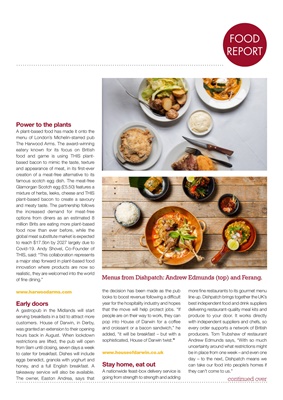 KITLIVING
Power to the plants
A plant-based food has made it onto the
menu of London's Michelin-starred pub
The Harwood Arms. The award-winning
eatery known for its focus on British
food and game is using THIS plantbased bacon to mimic the taste, texture
and appearance of meat, in its first-ever
creation of a meat-free alternative to its
famous scotch egg dish. The meat-free
Glamorgan Scotch egg (£5.50) features a
mixture of herbs, leeks, cheese and THIS
plant-based bacon to create a savoury
and meaty taste. The partnership follows
the increased demand for meat-free
options from diners as an estimated 8
million Brits are eating more plant-based
food now than ever before, while the
global meat substitute market is expected
to reach $17.5bn by 2027 largely due to
Covid-19. Andy Shovel, Co-Founder of
THIS, said: "This collaboration represents
a major step forward in plant-based food
innovation where products are now so
realistic, they are welcomed into the world
of fine dining."
Early doors
A gastropub in the Midlands will start
serving breakfasts in a bid to attract more
customers. House of Darwin, in Derby,
was granted an extension to their opening
hours back in August. When lockdown
restrictions are lifted, the pub will open
from 9am until closing, seven days a week
to cater for breakfast. Dishes will include
eggs benedict, granola with yoghurt and
honey, and a full English breakfast. A
takeaway service will also be available.
The owner, Easton Andrea, says that
the decision has been made as the pub
looks to boost revenue following a difficult
year for the hospitality industry and hopes
that the move will help protect jobs. "If
people are on their way to work, they can
pop into House of Darwin for a coffee
and croissant or a bacon sandwich," he
added, "it will be breakfast - but with a
sophisticated, House of Darwin twist."
Stay home, eat out
A nationwide feast-box delivery service is
going from strength to strength and adding
more fine restaurants to its gourmet menu
line up. Dishpatch brings together the UK's
best independent food and drink suppliers
delivering restaurant-quality meal kits and
produce to your door. It works directly
with independent suppliers and chefs, so
every order supports a network of British
producers. Tom Trubshaw of restaurant
Andrew Edmunds says, "With so much
uncertainty around what restrictions might
be in place from one week - and even one
day - to the next, Dishpatch means we
can take our food into people's homes if
they can't come to us."
Menus from Dishpatch: Andrew Edmunds (top) and Ferang.
continued over
FOOD
REPORT