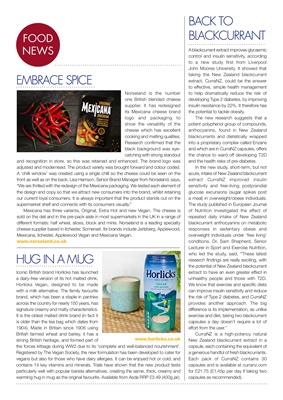 KIT
EMBRACE SPICE
Norseland is the number
one British blended cheese
supplier. It has redesigned
its Mexicana cheese brand
logo and packaging to
show the versatility of the
cheese which has excellent
cooking and melting qualities.
Research confirmed that the
black background was eyecatching with strong
standout
and recognition in store, so this was retained and enhanced. The brand logo was
adjusted and modernised. The product variety was brought forward and colour coded.
A 'chilli window' was created using a single chilli so the cheese could be seen on the
front as well as on the back. Lisa Harrison, Senior Brand Manager from Norseland, says,
"We are thrilled with the redesign of the Mexicana packaging. We tested each element of
the design and copy so that we attract new consumers into the brand, whilst retaining
our current loyal consumers. It is always important that the product stands out on the
supermarket shelf and connects with its consumers visually."
Mexicana has three variants, Original, Extra Hot and new Vegan. The cheese is
sold on the deli and in the pre-pack aisle in most supermarkets in the UK in a range of
different formats: half wheel, slices, block and minis. Norseland is a leading specialty
cheese supplier based in Ilchester, Somerset. Its brands include Jarlsberg, Applewood,
Mexicana, Ilchester, Applewood Vegan and Mexicana Vegan.
BACK TO
BLACKCURRANT
FOOD
NEWS
HUG IN A MUG
Iconic British brand Horlicks has launched
a dairy-free version of its hot malted drink,
Horlicks Vegan, designed to be made
with a milk alternative. The family favourite
brand, which has been a staple in pantries
across the country for nearly 150 years, has
signature creamy and malty characteristics.
It is the oldest malted drink brand (in fact it
is older than the tea bag which dates from
1904). Made in Britain since 1906 using
British farmed wheat and barley, it has a
strong British heritage, and formed part of
the forces kitbags during WW2 due to its 'complete and well-balanced nourishment'.
Registered by The Vegan Society, the new formulation has been developed to cater for
vegans but also for those who have dairy allergies. It can be enjoyed hot or cold, and
contains 14 key vitamins and minerals. Trials have shown that the new product tests
particularly well with popular barista alternatives, creating the same, thick, creamy and
warming hug in mug as the original favourite. Available from Asda RRP £3.49 (400g jar).
A blackcurrant extract improves glycaemic
control and insulin sensitivity, according
to a new study first from Liverpool
John Moores University. It showed that
taking the New Zealand blackcurrant
extract, CurraNZ, could be the answer
to effective, simple health management
to help dramatically reduce the risk of
developing Type 2 diabetes, by improving
insulin resistance by 22%. It therefore has
the potential to tackle obesity.
The new research suggests that a
potent polyphenol group of compounds,
anthocyanins, found in New Zealand
blackcurrants and dietetically wrapped
into a proprietary complex called Enzans
and which are in CurraNZ capsules, offers
the chance to ward off developing T2D
and the health risks of pre-diabetes.
In the new study, short-term, but not
acute, intake of New Zealand blackcurrant
extract CurraNZ improved insulin
sensitivity and free-living postprandial
glucose excursions (sugar spikes post
a meal) in overweight/obese individuals.
The study published in European Journal
of Nutrition investigated the effect of
repeated daily intake of New Zealand
blackcurrant anthocyanins on metabolic
responses in sedentary obese and
overweight individuals under 'free living'
conditions. Dr. Sam Shepherd, Senior
Lecturer in Sport and Exercise Nutrition,
who led the study, said, "These latest
research findings are really exciting, with
the potential of New Zealand blackcurrant
extract to have an even greater effect in
unhealthy people and those with T2D.
We know that exercise and specific diets
can improve insulin sensitivity and reduce
the risk of Type 2 diabetes, and CurraNZ
provides another approach. The big
difference is its implementation, as unlike
exercise and diet, taking two blackcurrant
capsules a day doesn't require a lot of
effort from the user."
CurraNZ is a high-potency natural
New Zealand blackcurrant extract in a
capsule, each containing the equivalent of
a generous handful of fresh blackcurrants.
Each pack of CurraNZ contains 30
capsules and is available at curranz.com
for £21.75 (£1.45p per day if taking two
capsules as recommended).