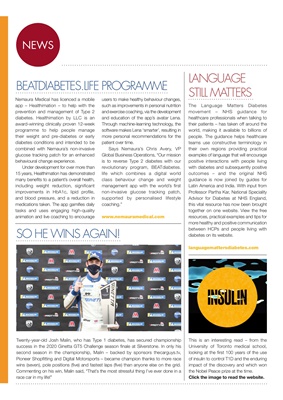 NEWS
BEATDIABETES.LIFE PROGRAMME
LANGUAGE
STILL MATTERS
The Language Matters Diabetes
movement - NHS guidance for
healthcare professionals when talking to
their patients - has taken off around the
world, making it available to billions of
people. The guidance helps healthcare
teams use constructive terminology in
their own regions providing practical
examples of language that will encourage
positive interactions with people living
with diabetes and subsequently positive
outcomes - and the original NHS
guidance is now joined by guides for
Latin America and India. With input by
Professor Partha Kar, National Specialty
Advisor for Diabetes at NHS England,
this vital resource has now been brought
together on one website. View the free
resources, practical examples and tips for
more healthy and positive communication
between HCPs and people living with
diabetes on its website.
languagemattersdiabetes.com
Nemaura Medical has licenced a mobile
app - Healthimation - to help with the
prevention and management of Type 2
diabetes. Healthimation by LLC is an
award-winning clinically proven 12-week
programme to help people manage
their weight and pre-diabetes or early
diabetes conditions and intended to be
combined with Nemaura's non-invasive
glucose tracking patch for an enhanced
behavioural change experience.
Under development for over more than
15 years, Healthimation has demonstrated
many benefits to a patient's overall health,
including weight reduction, significant
improvements in HbA1c, lipid profile,
and blood pressure, and a reduction in
medications taken. The app gamifies daily
tasks and uses engaging high-quality
animation and live coaching to encourage
users to make healthy behaviour changes,
such as improvements in personal nutrition
and exercise coaching, via the development
and education of the app's avatar Lena.
Through machine-learning technology, the
software makes Lena 'smarter', resulting in
more personal recommendations for the
patient over time.
Says Nemaura's Chris Avery, VP
Global Business Operations, "Our mission
is to reverse Type 2 diabetes with our
revolutionary program, BEATdiabetes.
life which combines a digital world
class behaviour change and weight
management app with the world's first
non-invasive glucose tracking patch,
supported by personalised lifestyle
coaching."
SO HE WINS AGAIN!
This is an interesting read - from the
University of Toronto medical school,
looking at the first 100 years of the use
of insulin to control T1D and the enduring
impact of the discovery and which won
the Nobel Peace prize at the time.
Click the image to read the website.
Twenty-year-old Josh Malin, who has Type 1 diabetes, has secured championship
success in the 2020 Ginetta GT5 Challenge season finale at Silverstone. In only his
second season in the championship, Malin - backed by sponsors thecarguys.tv,
Pioneer Shopfitting and Digital Motorsports - became champion thanks to more race
wins (seven), pole positions (five) and fastest laps (five) than anyone else on the grid.
Commenting on his win, Malin said, "That's the most stressful thing I've ever done in a
race car in my life!"