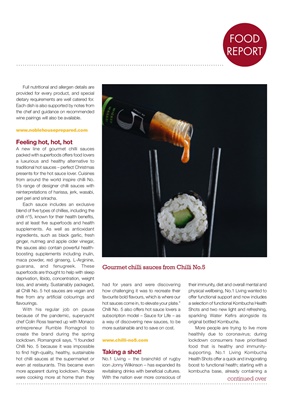 KIT
FOOD
REPORT
Full nutritional and allergen details are
provided for every product, and special
dietary requirements are well catered for.
Each dish is also supported by notes from
the chef and guidance on recommended
wine pairings will also be available.
Feeling hot, hot, hot
A new line of gourmet chilli sauces
packed with superfoods offers food lovers
a luxurious and healthy alternative to
traditional hot sauces - perfect Christmas
presents for the hot sauce lover. Cuisines
from around the world inspire chilli No.
5's range of designer chilli sauces with
reinterpretations of harissa, jerk, wasabi,
peri peri and sriracha.
Each sauce includes an exclusive
blend of five types of chillies, including the
chilli n°5, known for their health benefits,
and at least five superfoods and health
supplements. As well as antioxidant
ingredients, such as black garlic, fresh
ginger, nutmeg and apple cider vinegar,
the sauces also contain powerful healthboosting
supplements including inulin,
maca powder, red ginseng, L-Arginine,
guarana, and fenugreek. These
superfoods are thought to help with sleep
deprivation, libido, concentration, weight
loss, and anxiety. Sustainably packaged,
all Chilli No. 5 hot sauces are vegan and
free from any artificial colourings and
flavourings.
With his regular job on pause
because of the pandemic, superyacht
chef Colin Ross teamed up with Monaco
entrepreneur Rumble Romagnoli to
create the brand during the spring
lockdown. Romangnoli says, "I founded
Chilli No. 5 because it was impossible
to find high-quality, healthy, sustainable
hot chilli sauces at the supermarket or
even at restaurants. This became even
more apparent during lockdown. People
were cooking more at home than they
had for years and were discovering
how challenging it was to recreate their
favourite bold flavours, which is where our
hot sauces come in, to elevate your plate."
Chilli No. 5 also offers hot sauce lovers a
subscription model - Sauce for Life - as
a way of discovering new sauces, to be
more sustainable and to save on cost.
Taking a shot!
No.1 Living - the brainchild of rugby
icon Jonny Wilkinson - has expanded its
revitalising drinks with beneficial cultures.
With the nation ever more conscious of
their immunity, diet and overall mental and
physical wellbeing, No.1 Living wanted to
offer functional support and now includes
a selection of functional Kombucha Health
Shots and two new light and refreshing,
sparkling Water Kefirs alongside its
original bottled Kombucha.
More people are trying to live more
healthily due to coronavirus; during
lockdown consumers have prioritised
food that is healthy and immunitysupporting. No.1 Living Kombucha
Health Shots offer a quick and invigorating
boost to functional health; starting with a
kombucha base, already containing a
continued over
Gourmet chilli sauces from Chilli No.5