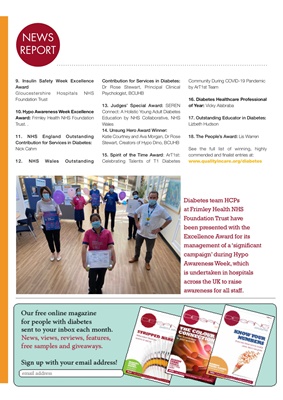 NEWS
NEWS
REPORT
9. Insulin Safety Week Excellence
Award
Gloucestershire Hospitals NHS
Foundation Trust
10. Hypo Awareness Week Excellence
Award: Frimley Health NHS Foundation
Trust. .
11. NHS England Outstanding
Contribution for Services in Diabetes:
Nick Cahm
12. NHS Wales Outstanding Contribution for Services in Diabetes:
Dr Rose Stewart, Principal Clinical
Psychologist, BCUHB
13. Judges' Special Award: SEREN
Connect: A Holistic Young Adult Diabetes
Education by NHS Collaborative, NHS
Wales
14. Unsung Hero Award Winner:
Katie Courtney and Ava Morgan, Dr Rose
Stewart, Creators of Hypo Dino, BCUHB
15. Spirit of the Time Award: ArT1st:
Celebrating Talents of T1 Diabetes Diabetes team HCPs
at Frimley Health NHS
Foundation Trust have
been presented with the
Excellence Award for its
management of a 'significant
campaign' during Hypo
Awareness Week, which
is undertaken in hospitals
across the UK to raise
awareness for all staff.
Community During COVID-19 Pandemic
by ArT1st Team
16. Diabetes Healthcare Professional
of Year: Vicky Alabraba
17. Outstanding Educator in Diabetes:
Lizbeth Hudson
18. The People's Award: Lis Warren
See the full list of winning, highly
commended and finalist entries at: