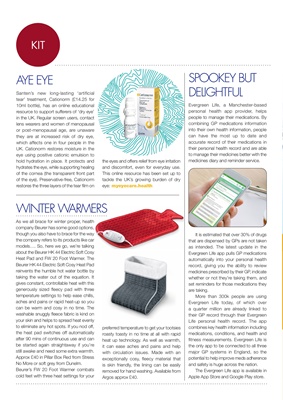 KIT
AYE EYE
Santen's new long-lasting 'artificial
tear' treatment, Cationorm (£14.25 for
10ml bottle), has an online educational
resource to support sufferers of 'dry eye'
in the UK. Regular screen users, contact
lens wearers and women of menopausal
or post-menopausal age, are unaware
they are at increased risk of dry eye,
which affects one in four people in the
UK. Cationorm restores moisture in the
eye using positive cationic emulsion to
hold hydration in place. It protects and
hydrates the eye, while supporting healing
of the cornea (the transparent front part
of the eye). Preservative-free, Cationorm
restores the three layers of the tear film on
the eyes and offers relief from eye irritation
and discomfort, even for everyday use.
This online resource has been set up to
tackle the UK's growing burden of dry
eye: myeyecare.health
SPOOKEY BUT
DELIGHTFUL
As we all brace for winter proper, health
company Beurer has some good options,
though you also have to brace for the way
the company refers to its products like car
models…. So, here we go, we're talking
about the Beurer HK 44 Electric Soft Cosy
Heat Pad and FW 20 Foot Warmer. The
Beurer HK 44 Electric Soft Cosy Heat Pad
reinvents the humble hot water bottle by
taking the water out of the equation. It
gives constant, controllable heat with this
generously sized fleecy pad with three
temperature settings to help ease chills,
aches and pains or rapid heat-up so you
can be warm and cosy in no time. The
washable snuggly fleece fabric is kind on
your skin and helps to spread heat evenly
to eliminate any hot spots. If you nod off,
the heat pad switches off automatically
after 90 mins of continuous use and can
be started again straightaway if you're
still awake and need some extra warmth.
Approx £40 in Pillar Box Red from Stress
No More or soft grey from Dunelm.
Beurer's FW 20 Foot Warmer combats
cold feet with three heat settings for your
WINTER WARMERS
Evergreen Life, a Manchester-based
personal health app provider, helps
people to manage their medications. By
combining GP medications information
into their own health information, people
can have the most up to date and
accurate record of their medications in
their personal health record and are able
to manage their medicines better with the
medicines diary and reminder service.
It is estimated that over 30% of drugs
that are dispensed by GPs are not taken
as intended. The latest update in the
Evergreen Life app pulls GP medications
automatically into your personal health
record, giving you the ability to review
medicines prescribed by their GP, indicate
whether or not they're taking them, and
set reminders for those medications they
are taking.
More than 300k people are using
Evergreen Life today, of which over
a quarter million are already linked to
their GP record through their Evergreen
Life personal health record. The app
combines key health information including
medications, conditions, and health and
fitness measurements. Evergreen Life is
the only app to be connected to all three
major GP systems in England, so the
potential to help improve meds adherence
and safety is huge across the nation.
The Evergreen Life app is available in
Apple App Store and Google Play store.
preferred temperature to get your tootsies
roasty toasty in no time at all with rapid
heat up technology. As well as warmth,
it can ease aches and pains and help
with circulation issues. Made with an
exceptionally cosy, fleecy material that
is skin friendly, the lining can be easily
removed for hand washing. Available from
Argos approx £40.