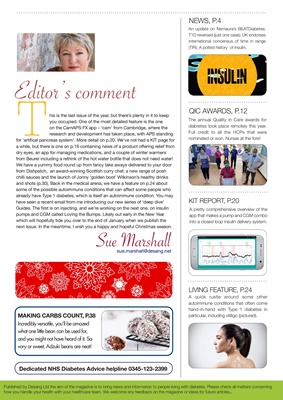 Published by Desang Ltd the aim of the magazine is to bring news and information to people living with diabetes. Please check all matters concerning
how you handle your health with your healthcare team. We welcome any feedback on the magazine or ideas for future articles..
Sue Marshall
The seasons move!
Editor's comment
We're joining in
FOOD NEWS, P.18
NEWS, P.4
Tandem Control iQetes.
Abbott's FreeSctiveness.
NEWS REPORT, P.8
MY DIABETES KIT, P.26
While justly famous for being carved
into ghoulish shapes for Halloween,
pumpkins are underrated as a source
of several important vitamins.
Youngster M
MAKING CARBS COUNT, P.34
Dedicated NHS Diabetes Advice helpline 0345-123-2399