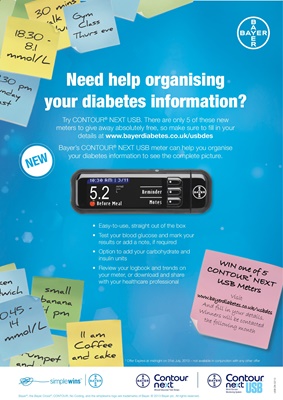 Need help organising
your diabetes information?
Try CONTOUR® NEXT USB. There are only 5 of these new
meters to give away absolutely free, so make sure to fill in your
details at www.bayerdiabetes.co.uk/usbdes
Bayer's CONTOUR® NEXT USB meter can help you organise
your diabetes information to see the complete picture.
NEW
• Easy-to-use, straight out of the box
• Test your blood glucose and mark your
results or add a note, if required
• Option to add your carbohydrate and
insulin units
WI
• Review your logbook and trends on CoNtN one of 5
ou
uSB r® NEXt
your meter, or download and share
with your healthcare professional
Meter
s
www.b
ayerd Visit
And fi iabetes.co.
u
Winn ll in your k/usbdes
ers w deta
the fo ill be cont ils.
llowin a
g mon cted
th
* Offer Expires at midnight on 31st July, 2013 – not available in conjunction with any other offer
USB DN 02/13
Blood Glucose
Monitoring System
Bayer®, the Bayer Cross®, CONTOUR, No Coding, and the simplewins logo are trademarks of Bayer. © 2013 Bayer plc. All rights reserved.