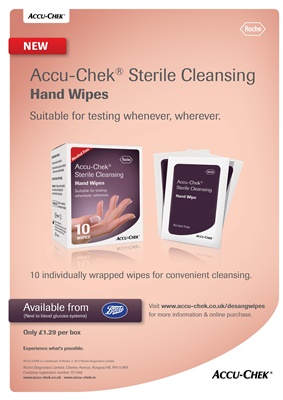 NEW
Accu-Chek® Sterile Cleansing
Hand Wipes
Suitable for testing whenever, wherever.
10 individually wrapped wipes for convenient cleansing.
Available from Visit www.accu-chek.co.uk/desangwipes
(Next to blood glucose systems) for more information & online purchase.
Only £1.29 per box
Experience what's possible.
ACCU-CHEK is a trademark of Roche. © 2013 Roche Diagnostics Limited.
Roche Diagnostics Limited, Charles Avenue, Burgess Hill, RH15 9RY.
Company registration number: 571546
www.accu-chek.co.uk www.accu-chek.ie