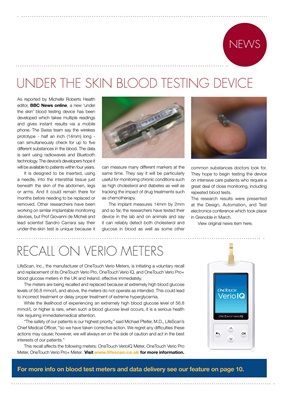 NeWs
uNder tHe skIN BlOOd testINg devICe
as reported by michelle roberts health
editor, BBC News online, a new 'under
the skin' blood testing device has been
developed which takes multiple readings
and gives instant results via a mobile
phone. the swiss team say the wireless
prototype - half an inch (14mm) long -
can simultaneously check for up to five
different substances in the blood. the data
is sent using radiowaves and bluetooth
technology. the device's developers hope it
will be available to patients within four years. can measure many different markers at the common substances doctors look for.
it is designed to be inserted, using same time. they say it will be particularly they hope to begin testing the device
a needle, into the interstitial tissue just useful for monitoring chronic conditions such on intensive care patients who require a
beneath the skin of the abdomen, legs as high cholesterol and diabetes as well as great deal of close monitoring, including
or arms. and it could remain there for tracking the impact of drug treatments such repeated blood tests.
months before needing to be replaced or as chemotherapy. the research results were presented
removed. other researchers have been the implant measures 14mm by 2mm at the Design, automation, and test
working on similar implantable monitoring and so far, the researchers have tested their electronics conference which took place
devices, but Prof giovanni de micheli and device in the lab and on animals and say in grenoble in march.
lead scientist sandro carrara say their it can reliably detect both cholesterol and View original news item here.
under-the-skin test is unique because it glucose in blood as well as some other
reCAll ON verIO meters
Lifescan, inc., the manufacturer of onetouch Verio meters, is initiating a voluntary recall
and replacement of its onetouch Verio Pro, onetouch Verio iQ, and onetouch Verio Pro+
blood glucose meters in the uk and ireland, effective immediately.
the meters are being recalled and replaced because at extremely high blood glucose
levels of 56.8 mmol/L and above, the meters do not operate as intended. this could lead
to incorrect treatment or delay proper treatment of extreme hyperglycemia.
While the likelihood of experiencing an extremely high blood glucose level of 56.8
mmol/L or higher is rare, when such a blood glucose level occurs, it is a serious health
risk requiring immediatemedical attention.
"the safety of our patients is our highest priority," said michael Pfeifer, m.D., Lifescan's
Chief Medical Officer, "so we have taken corrective action. We regret any difficulties these
actions may cause; however, we will always err on the side of caution and act in the best
interests of our patients."
this recall affects the following meters: onetouch VerioiQ meter, onetouch Verio Pro
meter, onetouch Verio Pro+ meter. Visit www.lifescan.co.uk for more information.
For more info on blood test meters and data delivery see our feature on page 10.