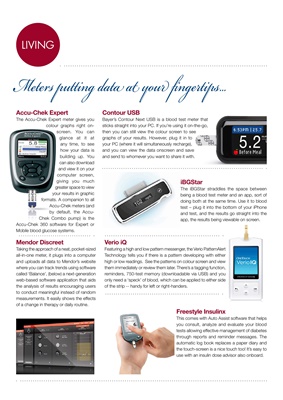 LIVING
Meters putting data at your fingertips..
Accu-Chek Expert Contour USB
the accu-chek expert meter gives you bayer's contour next usb is a blood test meter that
colour graphs right on- sticks straight into your Pc. if you're using it on-the-go,
screen. you can then you can still view the colour screen to see
glance at it at graphs of your results. however, plug it in to
any time, to see your Pc (where it will simultaneously recharge),
how your data is and you can view the data onscreen and save
building up. you and send to whomever you want to share it with.
can also download
and view it on your
computer screen,
giving you much iBGStar
greater space to view the ibgstar straddles the space between
your results in graphic being a blood test meter and an app, sort of
formats. a companion to all doing both at the same time. use it to blood
accu-chek meters (and test – plug it into the bottom of your iPhone
by default, the accu- and test, and the results go straight into the
chek combo pump) is the app, the results being viewable on screen.
accu-chek 360 software for expert or
mobile blood glucose systems.
Mendor Discreet Verio iQ
taking the approach of a neat, pocket-sized featuring a high and low pattern messenger, the Verio Patternalert
all-in-one meter, it plugs into a computer technology tells you if there is a pattern developing with either
and uploads all data to mendor's website high or low readings. see the patterns on colour screen and view
where you can track trends using software them immediately or review them later. there's a tagging function,
called 'balance', (below) a next-generation reminders, 750-test memory (downloadable via usb) and you
web-based software application that aids only need a 'speck' of blood, which can be applied to either side
the analysis of results encouraging users of the strip -- handy for left or right-handers.
to conduct meaningful instead of random
measurements. it easily shows the effects
of a change in therapy or daily routine.
Freestyle Insulinx
this comes with auto assist software that helps
you consult, analyze and evaluate your blood
tests allowing effective management of diabetes
through reports and reminder messages. the
automatic log book replaces a paper diary and
the touch-screen is a nice touch too! it's easy to
use with an insulin dose advisor also onboard.