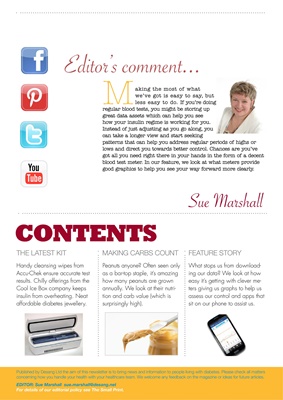 Editor's comment...
M aking the most of what
we've got is easy to say, but
less easy to do. If you're doing
regular blood tests, you might be storing up
great data assets which can help you see
how your insulin regime is working for you.
Instead of just adjusting as you go along, you
can take a longer view and start seeking
patterns that can help you address regular periods of highs or
lows and direct you towards better control. Chances are you've
got all you need right there in your hands in the form of a decent
blood test meter. In our feature, we look at what meters provide
good graphics to help you see your way forward more clearly.
Sue Marshall
contents
the Latest kit making carbs count feature story
Handy cleansing wipes from Peanuts anyone? Often seen only What stops us from download-
Accu-Chek ensure accurate test as a bar-top staple, it's amazing ing our data? We look at how
results. Chilly offerings from the how many peanuts are grown easy it's getting with clever me-
Cool Ice Box company keeps annually. We look at their nutri- ters giving us graphs to help us
insulin from overheating. Neat tion and carb value (which is assess our control and apps that
affordable diabetes jewellery. surprisingly high). sit on our phone to assist us.
Published by Desang Ltd the aim of this newsletter is to bring news and information to people living with diabetes. Please check all matters
concerning how you handle your health with your healthcare team. We welcome any feedback on the magazine or ideas for future articles.
Editor: Sue Marshall sue.marshall@desang.net
For details of our editorial policy see the Small Print.