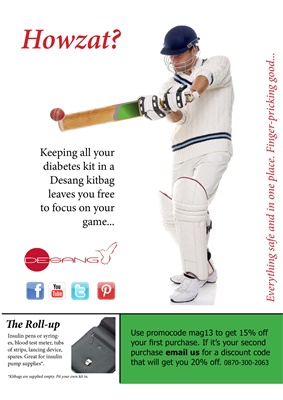 Howzat?
Everything safe and in one place. Finger-pricking good...
Keeping all your
diabetes kit in a
Desang kitbag
leaves you free
to focus on your
game...
The Roll-up
Insulin pens or syring- Use promocode mag13 to get 15% off
es, blood test meter, tubs your first purchase. If it's your second
of strips, lancing device,
spares. Great for insulin
purchase email us for a discount code
pump supplies*. that will get you 20% off. 0870-300-2063
*Kitbags are supplied empty. Fit your own kit in.