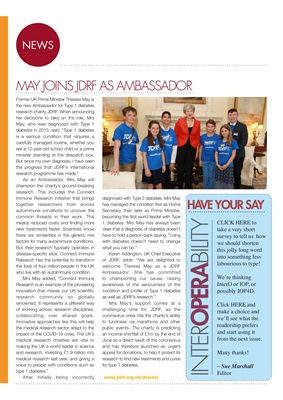 NEWS
INTEROPERABILITY
MAY JOINS JDRF AS AMBASSADOR
Former UK Prime Minister Theresa May
is new Ambassador for Type 1 diabetes
research charity JDRF. Diagnosed with
Type 1 diabetes in 2013, announcing her
decision to take up the role, Mrs May said,
"Type 1 diabetes is a serious condition
that requires a carefully managed routine,
whether you are a 12-year-old school
child or a prime minister standing at
the despatch box. But since my own
diagnosis, I have seen the progress that
JDRF's international research programme
has made."
As an Ambassador, Mrs May will
champion the charity's ground-breaking
research including the Connect Immune
Research initiative, which brings together
researchers from across autoimmune
conditions to uncover the common
threads in their work - meaning reduced
costs, and more new treatments, faster.
Scientists know there are similarities in the
genetic risk factors for many autoimmune
conditions. But their research typically
operates in disease-specific silos.
Connect Immune Research has the
potential to transform the lives of four
million people in the UK who live with an
autoimmune condition.
Mrs May added, "Connect Immune
Research is an example of the pioneering
innovation that makes our UK scientific
research community so globally
renowned. It represents a different way
of working across research disciplines,
collaborating over shared goals.
Innovative approaches like this will help
the medical research sector adapt to the
impact of the COVID-19 crisis. The UK's
medical research charities are vital to
making the UK a world leader in science
and research, investing £1.9 billion into
medical research last year, and giving a
voice to people with conditions such as
type 1 diabetes."
After initially being incorrectly diagnosed with Type 2 diabetes, Mrs May
has managed the condition first as Home
Secretary, then later as Prime Minister,
becoming the first world leader with Type
1 diabetes. Mrs May has always been
clear that a diagnosis of diabetes doesn't
have to hold a person back saying, "Living
with diabetes doesn't need to change
what you can do."
Karen Addington, UK Chief Executive
of JDRF, adds, "We are delighted to
welcome Theresa May as a JDRF
Ambassador. Theresa has committed
to championing our cause, bringing to
life the seriousness of the condition, and
raising the profile of type 1 diabetes and
JDRF's research."
Mrs May's support comes at a
challenging time for JDRF, as the
coronavirus crisis hits the charity's ability
to fundraise via marathons and other
public events. The charity is predicting
an income shortfall of £1m by the end of
June as a direct result of the coronavirus
and has therefore launched an urgent
appeal for donations, to help it protect its
research to find new treatments and cures
for type 1 diabetes.
To donate to JDRF's appeal visit
HAVE YOUR SAY
CLICK HERE to
take a very short
survey to tell us how
we should shorten
this jolly long word
into something less
labourious to type!
We're thinking
InterO or IOP, or
possibly IOP4D.
Click HERE and
make a choice and
we'll see what the
readership prefers
and start using it
from the next issue.
Many thanks!
- Sue Marshall
Editor