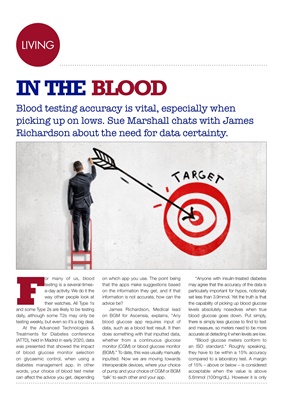 LIVINGLIVING
IN THE BLOOD
Blood testing accuracy is vital, especially when
picking up on lows. Sue Marshall chats with James
Richardson about the need for data certainty.
F
or many of us, blood
testing is a several-timesa-day activity.
We do it the
way other people look at
their watches. All Type 1s
and some Type 2s are likely to be testing
daily, although some T2s may only be
testing weekly, but even so it's a big deal.
At a conference, Advanced
Technologies & Treatments for Diabetes
(ATTD), held in Madrid in early 2020 data
was presented that showed the impact
of blood glucose monitor selection on
glycaemic control when using a diabetes
management app. In other words, your
choice of blood test meter can affect
the advice you get out of some of the
apps that are out there, the point being
that the apps make suggestions based
on the information they get, and if that
information is not accurate, how can the
advice be?
James Richardson, Medical lead
on BGM for Ascensia, explains, "Any
blood glucose app requires input of
data, such as a blood test result. It then
does something with that inputted data,
whether from a continuous glucose
monitor (CGM) or blood glucose monitor
(BGM)." To date, this was usually manually
inputted. Now we are moving towards
interoperable devices, where your choice
of pump and your choice of CGM or BGM
'talk' to each other and your app.
"Anyone with insulin-treated diabetes
may agree that the accuracy of the data is
particularly important for hypos, notionally
set less than 3.9mmol. Yet the truth is that
the capability of picking up blood glucose
levels absolutely nosedives when true
blood glucose goes down. Put simply,
there is simply less glucose to find to test
and measure, so meters need to be more
accurate at detecting it when levels are low.
"Blood glucose meters conform to
an ISO standard.* Roughly speaking,
they have to be within a 15% accuracy
compared to a laboratory test. A margin
of 15% - above or below - is considered
acceptable. When the value is above
5.6mmol (100mg/dL), however it is only